Baucau
Baucau is the second-largest city in East Timor, after Dili, the capital. Baucau is home to over 16,000 people and is located in the eastern part of the country.
Mercy Works in collaboration with the Australian Marist Solidarity is supporting two projects in this district, the Uai-Lili Computer Centre and the Katilosa Community Centre.
Mercy Works is proud to partner with the Australian Marist Solidarity in supporting these two vital projects in Timor-Leste.
Uai-Lili Computer Centre
90 school-aged children and young adults in the Baucau District of Timor-Leste are given the opportunity to learn how to use computer programs such as Windows, Word, PowerPoint and Excel at the Uai-Lili Computer Centre. Not only do they learn how to use these programs but they also learn how to maintain the machines they are using.
Most students in Timor-Leste have little to no access to computers at school giving them no opportunity to begin learning the skills to use them. This centre provides the environment to develop skills that will give these young people the knowledge and experience they need when undertaking further education and/or employment.
Over 500 participants have been taken this computer course since 2014, with demand for only continuing to grow. There are also plans to expand into teaching English.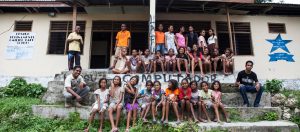 Katilosa Community Centre
Katilosa Community Centre is a non-government organisation (NGO) run by the local people based in the small village of Darasula in Baucau District, Timor-Leste.
Over 250 children, youth and adults with disabilities in the Baucau District of Timor-Leste are able to access much needed support through this project.
The community centre is a safe place for disabled children and their families to come together during the dry season to interact with one another, building critical support networks.  Transportation is also provided to and from the centre as many of those who rely on these services cannot access public transport.
The Community Based Rehabilitation outreach program run from the centre offers physiotherapy, assessments and referrals to other critical services to all those who seek help. This program also provides an inclusive educational component which helps to reintegrate children back into their local schools, bringing back some routine back into the lives of those students and greater opportunities for learning.