Easter Message of 'Light and Hope'
A message of 'Light and Hope' for this Easter Season from Executive Director, Sr Sally Bradley RSM
I have walked this path to Easter this year very conscious of my own recent visit to Papua New Guinea. It was an experience of moving from darkness to the light, passing on the Easter light, the light of the Risen Jesus.
Maria (our Overseas Program Manager) and I had the joy of visiting our Mercy Works projects in PNG for two weeks in February. We had not been able to visit since 2019, due to Covid.
All the challenges of life in PNG are still very real. Some are even heightened since the pandemic. Coming from a privileged lifestyle in Australia, I find these challenges very confronting! There is extreme poverty. Climate change is severe across the country and the poorest are impacted the most.  The access to connectivity by either phone or internet has worsened. Examples of corruption at the government level abound. Ensuing frustration is often bubbling just below the surface.  One of the consequences of the frustration and hopelessness is an escalation in violence.
While acknowledging all these challenges of life in PNG, I experienced hope and light. Whenever I visit PNG I am always touched by the warmth of the people, their deep faith, their strong sense of family and community, and the beauty of the countryside. We heard many uplifting

Mercy Works

stories. The

Mercy Works

program in Simbu aims to improve the living standards of vulnerable people by building skills and capacities to enable them to develop their own economic and social development. On reflection it was for me an experience of passing on the Easter light, a light which overcomes all darkness.
A key activity of our work in Simbu, is the Leave No One Behind project, a village savings and loan scheme. The local people begin initially with a small loan from

Mercy Works

of 30 kina (about $13 AUD) as start-up capital to engage in some income generating activity of their choice.  After two weeks this must be returned to

Mercy Works

so it can be passed on to another participant. Once they are earning a regular income, they are encouraged to join a Leave No One Behind savings and credit group. These groups are self-managed, and members meet fortnightly to save their money in a safe place and then access small loans from their group savings. 

Mercy Works

also provides life skills and technical training, so people of all ages can start their own business. They receive training in baking, food processing, organic farming practices and financial management. This increases people's access to and control over resources.
The staff and the local people were so eager to share their good news stories with us as part of the

Mercy Works

program in Simbu, stories of light and hope. One morning we met in a hall with the women in Kundiawa. One woman stood up and proudly shared the story of how she was able to fix her car and now help others to transport their produce to sell at the markets.  Another woman told us that she was able to buy timber for her husband to build a new house, while another woman has started a poultry business.  A grandmother shared with us that she was able to buy a mobile phone for her grandson, while another has bought a fridge. One woman and her husband are building a small restaurant. She promised to invite all who were present to a free meal together to celebrate its opening. The women are growing in self-confidence and self-reliance as they develop their own livelihoods.
We constantly heard phrases such as – "We now see the light and we want to do more." 
One afternoon we drove in the pouring rain up the steep mountain to the village of Gemboghl.  We gathered in a tin shed. About 70 villagers had travelled for hours on foot to meet with us. They displayed their produce, and each clan shared their stories. One very proud farmer shared his credit group's achievements with us. He held up a jar of money – 11,000 kina (about $5,000 AUD). This money has been raised from farming bulb onions. Another woman shared the beautiful woodwork which her clan have made using their savings loan. They plan to sell it at the local markets.
One of the men summed it all up by saying – "Before

Mercy Works

we had no plans in our village, now we all contribute to our livelihood. We want to excel in what we are doing. We want to share the light."
As I listened to these uplifting Mercy Works stories of hope and change, I was reminded of the service of light which is the powerful ceremony at the beginning of the Easter vigil. This begins in the dark as the Easter fire is lit outside. The large Easter candle is lit from this blazing fire and each person lights their own candle, passing on the light to each other. The darkness is gradually lit up. It is a moment of exuberant joy and thanksgiving.
The Leader proclaims – "Christ our Light." We all respond – "Thanks be to God."
As I listened to these stories in PNG, these words echoed in my own heart. So, I invite you this Easter to listen attentively for stories in your own life in which the Easter light of Christ is passed onto others. Stories of hope which lift your spirit … And in the words of Catherine McAuley, the founder of the Sisters of Mercy, I invite us all to "be shining lamps bringing light to all around us" this Easter.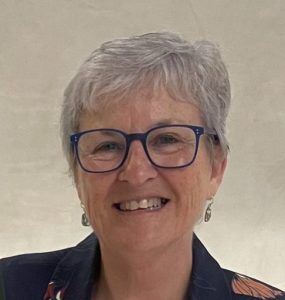 Executive Director
Mercy Works