Ability Not Disability
Julio Berec Pires, a teacher at the Katilosa Centre for the Disabled in Timor-Leste, was thrilled when he was called to teach at Katilosa. "I thought it was a great opportunity and I would be able to share my skills and knowledge with children with special needs."
His enthusiasm stemmed from his background in education as a Brother at Holy Family Congregation in Flores, Indonesia.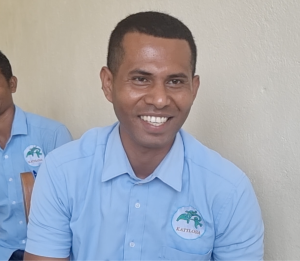 Helping a blind boy walk and tap musical beats with a white music stick as he talks, Julio says he likes to focus on the students he works with ability and not their disability.
"I am passionate about delivering the best learning methods for children with disabilities, but I do struggle with children and adults with disabilities because of their limited communication in the classroom. I want them to understand the literacy, music, and art programs I teach so I am doing research into finding materials about the best methodology of teaching disabled children with Cerebral Palsy, Down Syndrome and visual impairment."
Julio, who has been at the Centre for two years, says people with disabilities have untapped potential.
"Many of us just focus on their disability and not their ability. As a teacher I try to do all my best to develop their educational ability so they will contribute to the development of Timor-Leste."
This year, Katilosa has 50 students who come to the centre and Julio teaches them literacy, art and music. "They like to dance too," he says. "We now have 21 students in two groups, one with disabilities and one for down syndrome students, who we have created a special classroom for."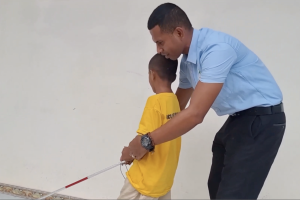 Katilosa was founded in 2000 by Laurentino Guterres, a former interpreter for the UN, who was inspired by a blind lady he met in the region and began organising regular meetings. Now the centre has grown to reach hundreds in the community. It also provides physiotherapy, assessments, referrals, and support to a wide range of disabilities including amputations, cerebral palsy, developmental disorders, Downs Syndrome, Parkinson's disease and visual impairments. During Covid the centre adapted to a full outreach model with staff visiting homes.
They also employ people with disabilities, which helps to increase public awareness and eliminate discrimination.
Katilosa provides transport each day for their students and some students progress to mainstream education. Many families have never received support before and so before this project existed, they have not known how to care for their loved ones or understood the high intellectual capacity of those who are non-verbal.
"I find it very helpful because when he learns here – when he comes back home, he's still continuing to learn, particularly with the music," one proud mum told Maria Prescilla, our Overseas Project Manager, during a recent visit through an interpreter. "He is always singing and always asks for a microphone!"