All Time High at Hilltop High!
Our Hilltop Road Adult Literacy Class reached an all-time high in May as they embarked on their first excursion.
The adult literacy learners are from the Hilltop Road Community Centre in Sydney, run by Catherine Gregory, The Community Liaison Officer at Hilltop Road Public School, where Mercy Connect provides volunteers to support students from refugee and asylum seeker background.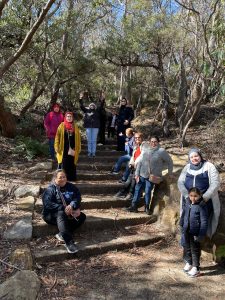 The Adult Literacy Classes empower their parents to learn English so they can help their children in their school and adapt to their new life in Australia.
"Well, I can truly say, Monday's excursion was the highlight of my 17 years here at Hilltop Road!" says Catherine.
"Sherry (a Mercy Connect volunteer) opened her house to the Mums, and they didn't want to leave!"
For most of our adult literacy learners, it was the first time they had been invited to an Aussie's house or a house outside their own family. 
The smiles and chatter over lunch say it all!