Back to school with Mercy Connect Perth!
Schools are back and that means our Mercy Connect classrooms are back in the swing of things.
We are so grateful to the Mercy Foundation Social Justice Small Grants Program as well as CCI Giving's Small Grants Program for supporting our Mercy Connect Perth volunteer program which operates in 20 schools across Perth.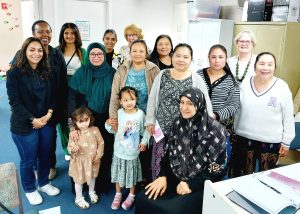 CCI Giving builds on a longstanding history of 'giving back' to the community, and is inspired by the centuries-old Catholic tradition of compassion in action to support the most marginalised and under-served in our community.
After a disruptive 2022 due to Covid, this funding will ensure that our amazing volunteers are back in-schools supporting refugee and asylum seeker students at some of Perth's most disadvantaged schools.
Many of these students often feel isolated and anxious, having experienced lengthy periods of dislocation, grief and trauma. Our volunteers assist these students to navigate the many challenges that adjusting to a whole new life presents.
Mercy Connect volunteers engage with students from Kindy right through to year 12 as well as supporting parents and mature-age students through to adult classes, providing them with the opportunity to improve their spoken and written English.
Currently there are 42 volunteers at Mercy Connect Perth assisting more than 200 students in 20 schools, with the numbers continually growing.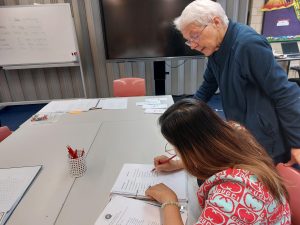 "Our volunteers are the backbone of the program," says our Mercy Connect Perth Coordinator, Kristen Soon.
"They have demonstrated incredible commitment, resilience, flexibility and compassion during the ongoing pandemic, often putting themselves at risk to ensure that our beneficiaries are supported as they struggle with language, socio-cultural and economic challenges at a critical time in their settlement in Australia."
Pictured here are adults from our literacy classes in Koondoola Parents ESL Class at Koondoola Primary School and our Rawlinson Parents ESL class.
We can't thank you enough CCI Giving and Mercy Foundation!