Best Foot Forward
Nothing makes Esther* happier than making clothes for others.
The 32-year-old asylum seeker from Papua New Guinea is a participant in Mercy Works partnership with the Romero Centre – Gateways To Employment for People Seeking Asylum – in Brisbane, which has so far helped 20 women and 17 men gain employment since last July.
There are many challenges facing people seeking asylum in Australia, including financial – which often leads to homelessness and destitution. Lack of employment also impacts on welfare, mental and physical health and children. Isolated, uncertain and frightened, it's a complicated system to navigate.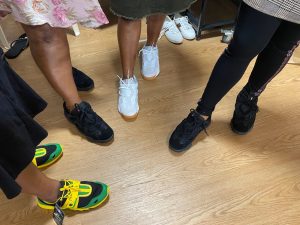 For women like Esther, finding a job can be particularly difficult. Many come from a cultural background where paid employment for women is not widely available. And many, particularly those from PNG, are fleeing domestic violence and have sole child caring responsibilities – an additional barrier. Others have lived in detention for a prolonged period and 70% of participants have flashbacks from trauma they have experienced.
Which is why we are so proud to help women like Esther safely enter the workforce.
After approaching The Romero Centre for support last October, she was able to apply for a protection visa and was granted a bridging visa with work rights.
It was during this three-month process Esther engaged in several workshops under the Mercy Works partnership program including a workshop with Mater Hospital for Workplace Health and Covid 19 Protocols; a workshop with MCW Lawyers for Safety and Employment Rights and Obligations; Group ESL and individual tutorials and a cultural mentoring workshop as well as an excursion with her peers. She also attended a workplace group visit in a café and undertook a trial shift.
But it was not the right fit.
So, with Mercy Works support, she decided to focus on what she loves to do: Sewing!
Esther began applying for tailoring jobs, as she had some experience in that field. "Sewing clothes is my natural gift," she says. "Nothing makes me happier than making clothes for others."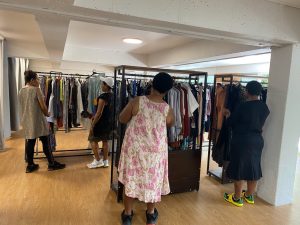 Once her work rights arrived, she applied for five tailoring jobs and was invited to two job interviews, ultimately receiving a job offer as a commercial tailor.
"With her skills, passion and help of Romero Centre staff, she started her dream job not even three weeks from the day she was granted work permission to work in Australia!" says Misha Emingerova, a case worker at Romero.
With a regular income, Esther will now be able to continue her settlement in Australia and support her family back home financially.
"She is now onto her next step – obtaining a Queensland drivers licence!" says Misha proudly.
This empowering project is seeing fantastic results. It supports asylum seekers from over 40 cultural groups, with a particular focus on women, to gain work experience and employment and to address the barriers they face from a lack of English language skills, resources and networks. Pathways to employment are strengthened by linking participants to real-world employers within our Mercy Partners and business association networks.