Building Bridges in PNG
For over 40 years children and adults from Kup village in Simbu, Papua New Guinea, have struggled to cross the mighty waters of the Wahgi River to get to the nearest town of Kundiawa.
One way is to walk on the pot-holed dirt main road for three to four hours to the town of Mingende, then travel on the Public Motor Vehicle (PMV), a 12-seater bus, for 30 minutes to Kundiawa town.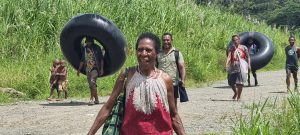 The only fast way is dangerous, yet vital, for the 5,000 people who live in the village of Kup.Currently, the villagers swim across the river's fast-moving waters or sit on large black rubber tyre tubes and propel themselves across. This takes about 10-15 minutes, and they inevitably get soaked. School teachers make their way to work this way, families get to the markets and to buy supplies and villagers to churches.
Watch the video here: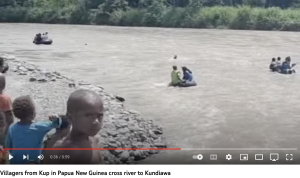 So the locals are taking action themselves and advocating to their local government to build a bridge to make the crossing easier and safer for future generations.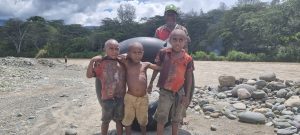 At a local meeting of the villagers in February, they explained to Mercy Works staff, Sr Sally Bradley RSM (Executive Director) and Maria Prescilla (Overseas Program Manager), their hopes to raise a sum of money by June. They will contribute a small part of their Mercy Works Leave No One Behind Village Savings and Loans Association (LNB-VSLA) business activities.
The LNB-VSLA is the initiative of our Project Coordinator in Simbu, Sr Maryanne Kolkia RSM, where villagers are encouraged to form savings and loans group. Here they can save their hard-earned money from selling their products to the markets. The LNB-VSLA provides members access and control over resources and is stimulating economic activities in the community. It is building community capacity, ownership and empowerment.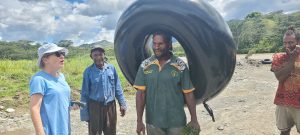 "The dream is to take a part of the small sum of money they have raised themselves to the local government as a contribution from the people themselves," says Sr Maryanne.
"Such advocacy would hopefully urge the local government to build a long overdue bridge for the people of Kup village. There will be a risk in taking this initiative, but we believe God will bless our generosity and the government will hopefully hear our long-overdue need. The local people will then cheer 'wakai' (which in the local Kuman language means to 'cheer loudly') for our success."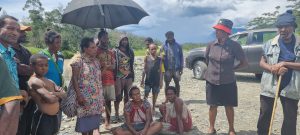 Local priest, Fr Anton Kuman, explained the clan's local traditional custom of pinning money notes on bamboo poles.
"This is a powerful image for the people," says Sr Sally fresh from her recent visit to PNG, who admitted she didn't brave the river on a rubber tube herself! "Some people will also be encouraged to give a small personal financial contribution if they can."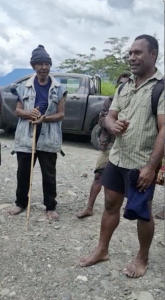 Fr John Bige, Vicar General of Kundiawa Catholic Diocese, who was also present at the meeting, said their dream is to move forward together and "literally to leave no one behind on the riverbank".
One of the villagers thanked our Mercy Works team, saying: "Thank you very much – you came along to visit us and see how we are living and how we eat and how we are go to and forth on the might river and we are very appreciative…You come here and you've made a big a big difference in our life! God bless!"  You can see his 'thank you video' here:
"With 2023 being the Year of the Children – we can't think of better community advocacy for the well-being of future generations," said Sr Maryanne.
To watch VIDEO Kup villagers travelling on the river click on the link