Cherilyn Finds Her Voice
*WARNING* This story is of an extremely sensitive nature and may be triggering to some readers who have experienced abuse. 
Cherilyn has finally found her voice. Now an USWAG officer (United Services of Women's Advocates of the Good Shepherd) whom Mercy Works supports through The Creating Change for Women Through Advocacy Project in Cebu in the Philippines, she spends her days advocating for women who are survivors of human trafficking and making sure their voices are also heard. 
But this wasn't always the case. At one time Cherilyn admits she was in the dark, completely voiceless, and unable to change the direction of her life, trapped in a world of prostitution, drugs and traumatic experiences.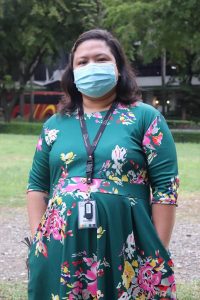 Cherilyn's story begins in the red-light district of Cebu City where, as a teenager, she was led into prostitution after being raped by her cousin. She also witnessed the brutal murder of her father, who was shot in front of her in the family home.
Drugs and prostitution were normal in her upbringing, and the troubled 15-year-old found herself in a lot of debt to those who forced her to work for survival.
"We owed a lot of money to our managers – and we couldn't say 'I want to leave' or 'I want to stop working' because every day they take out the money that we owe," she says of the poverty and trauma she was surrounded by.
"I was in the situation because I didn't have money, and I couldn't go back to the house where every room reminded me of the traumas I had been through."
It was the outreach program conducted by the Good Shepherd Sisters that saved her at the age of 17 from a life of human slavery.
"They would come to our place of work every night [in the red-light district] and give us inspirational talks. It was the start of me thinking my life could change and that I could start on my recovery."
The Good Shepherd program is not just about healing, but also educational help and pathways to other employment. It includes advocacy and empowerment through lobbying the government and a coalition of like-minded entities.
"It was a long process to start healing. I went to a rehabilitation program at the recovery centre where we went deep within the traumas and learned to recognise those traumas and then we are able to take the chance to heal those traumas. It takes time to accept those traumas, not just the time but the emotional damage the traumas have cost us."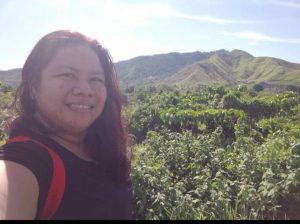 It was after a gathering for the Creating Change for Women Through Advocacy Project this year, that Cherilyn had the strength to reach out and become an USWAG officer, volunteering a few days a week and working with other women who are survivors.
"It was the start of a new journey for me to reach out and touch the hearts of other girls."
While Cherilyn admits she has come far, the pain is deeply embedded. By giving other women a voice, she says her new role is helping her heal.
"What gives me strength is that I can also see these traumas in the other girls. And seeing them change is also healing me, so that's why I really want to continue and touch the lives of others through my experiences."
After 10 years volunteering at the recovery centre, she then began her life in Cebu as an independent woman.
"Even now I am healed, there are still the scars from those traumas, and I cannot hide them."
The main dream of this project is to raise society's response to human trafficking. And Cherilyn is convinced education is key to the process. Not just for girls and women, who need to know their human rights, but also to raise the level of society's response to human trafficking.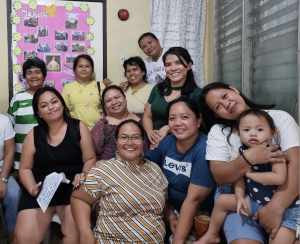 The group meets once a month at an Advocacy Hub to plan activities and workshops and are empowered to advocate in set communities based on geographic locations. The creation of this community of survivors will make this project sustainable into the future.
Now stable and working as a call centre agent in accounting software, Cherilyn says just by her presence there, other women can see how somebody already survived from the same situation – and with the right support they can turn their life around.
"Being an inspiration for them is the only thing I can do for them right now," she says quietly.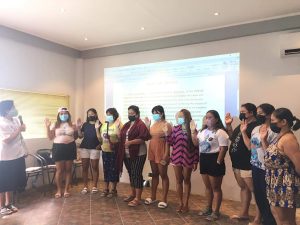 "When I was in that situation somebody also did something for me, she was my voice when I was voiceless," she recalls, referring to Mely Lenario, a Project Coordinator at Good Shepherd Welcome House.
"So right now, that I have my own voice to say, 'I have survived' and showing those who are voiceless now, 'I was voiceless like you' – that 'I was in that situation, but right now I am proud' – that I have my own voice to say, 'I have survived'. As a person who was in the dark before – we really need inspiration to say 'I can be the same as her. I can also do the same as her. I can also survive like her'.
"I can also say; 'because of you I have survived. Because of you I was helped and now I am able to help others."
You can watch Cherilyn's Interview HERE [click on link]
Cherilyn Speak - Interview with Cherilyn, a SURVIVOR of human trafficking