Closing the Gap
It's National Close the Gap Day today – and we here at Mercy Works would like to acknowledge the ongoing strength and resilience of Aboriginal and Torres Strait Islander people in sustaining the world's oldest living cultures.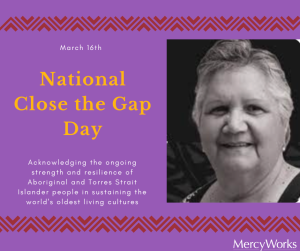 In December of 2021, the Mercy Works Adelaide First Nations Advocacy project – known as Nunga Babies Watch – called upon the South Australian Government for immediate action to end another Stolen Generation from happening.
One action of the 20-point statement said: "We demand an end to the arbitrary taking of our children and their placement in non-indigenous settings
"We are strongly and irrevocably opposed to the adoption of our children from non-kinship, out-of-home, residential care and/ or foster care. We do not want 'assimilation' of our children to continue, nor do we want a silent continuation of the Stolen Generation," said the statement.
"The DCP has to be held accountable for its decisions in the taking away of our children. If an Aboriginal child can't stay with their mother, follow the mother's bloodline and you'll find some-one who can look after that child."
The Statement was presented by Ngadjuri woman Aunty Pat Waria-Read and members of the Nunga Babies Watch in partnership with the Grannies Group (respected Elders in the community) to South Australian Parliament House in December 2021. For over a year there was little response.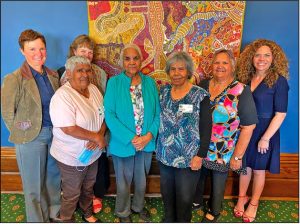 As the months ticked on, Aunty Pat and the Nunga Babies Watch team watched as Aboriginal men, women and children continued to be incarcerated at such a disproportionately high rate that Australia, according to the National Suicide Prevention and Trauma Recovery Project 202, 'owns a humanitarian crisis as the mother of jailers of its First People.'
In November NBW attended the 'Have your say on SA's child protection legislation and proposed 17 amendments to the legislation.
Christmas did not slow the rate at which Aboriginal children were taken by the Department for Child Protection.
On February 21, Connie Bonaros, Member of the Legislative Council of South Australia, delivered a speech by Aunty Pat to SA Parliament House reading Auntie Pat's words from the heart, with understanding and compassion.
Here is the statement:
"Before settlement Aboriginal people had a voice, an ancient voice. Our voice has travelled through time, from the beginning.

Our Elders guide us with their wisdom and stories. 

Our voice makes a difference!

But today our voice is not heard, we are not listened to, we are silenced.

The Voice in Government can stop on-going trauma, judgemental and racist behaviour towards our Aboriginal families and communities.

Our voice can stop our families and communities from being punished, keep our children from the juvenile justice system, the Department for Child Protection, out of prison and stop our unborn babies from being 'red flagged' and then taken.

Our voice can ensure our children remain with family, community and stay connected to culture. Keeping our children linked to their culture gives us hope for our future. Ourchildrenlie at the heart of who we are.

Our voice is our community. Our voice strengthens, heals and builds resilience in support of our health, safety and wellbeing.

The Voice in Government will be the voice of our communities,families and children.

The Voice will ensure the voices of our Aboriginal nations in SA are heard.

Our voice will be heard not silenced."
NBW would like to acknowledge Connie's enduring support over many years and collaboration with Auntie Pat in preparation and delivery of this speech. In addition, we thank Connie, Jody (Senior Advisor) and Tina, for their ongoing commitment to enable the authentic voice of Aboriginal and Torres Strait Islander peoples to be heard.
Included in the original NBW submissions made to parliament on the Taking of Aboriginal Children was the call for:
– an Independent Aboriginal Controlled Child Care Agency, and
– an Aboriginal panel to review decisions taken by the Department of Child Protection (DCP).
Mercy Works partnership with this project came about after Aunty Pat, a former chaplain for the Department of Correctional Services, saw first-hand the DCP taking children away from their mothers while they are in hospital, or as soon as they are in jail, often presenting them with an order to take their children into residential care until they are 18 without being informed they have a right to a lawyer.
Mercy Works is proud to partner with this project, along with our other four First Nations Projects, to work in partnership towards Closing The Gap and breaking the cycle. You can read the full statement here: