Creating Change in Cebu
Human trafficking is a social issue that needs social action. Through the Creating Change for Women Through Advocacy Project, Mercy Works hopes to provide awareness and education around the issue; to capacitate people from the grassroots in becoming strong advocates against human trafficking and form a coalition of both like-minded non-government and government organisations, groups and inter-faith-based organisations to create change.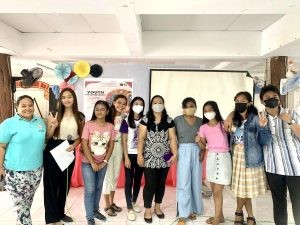 Ultimately, we hope it will create a desire to advocate for the protection of human rights for all people, especially women and young girls, and challenge the current systems that fuel human trafficking and all forms of sexual exploitation and prostitution – the antithesis to human rights and human dignity.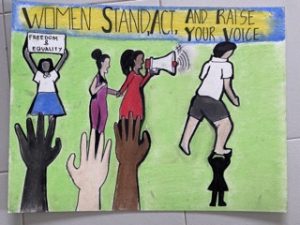 The first year of the project focussed on Delving into the Drivers of Human Trafficking of Women: The Cebu Provence Experience, a detailed Report where 100 women were interviewed. This Report has been published. The Report found the major drivers for this phenomenon included lack of opportunity to get proper education due to exposure to domestic and financial risks in their early years of life, the absence of birth certificates (which gives them an identity), inadequate housing due to their inability to acquire property, the inaccessibility to high-paying jobs, and compromising healthcare.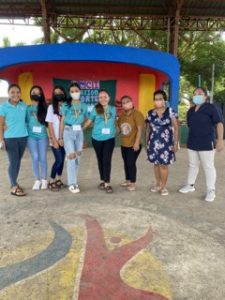 "These drivers place women in vulnerable circumstances, and they become easy prey to human traffickers," says head researcher Marietta Latonia, RSW, MSSW.
Or as, Sr Leah Anne Espina, RGS, a Good Shepherd Sister, says: "As different groups persevere in networking and responding, then, every girl, woman and person trapped in the web of abuse and violation will break free and eventually travel the road to healing and restoration of their dignity and become important contributors to the transformation of society and our world."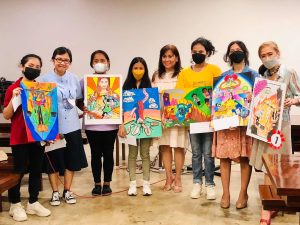 Now coming into its second year, the project has developed and capacitated multiple key leaders towards transformation into Core Movers to join the fight against human trafficking.
These 48 individuals, aged between 17 and 60 years old and chosen from the various government, non-government and inter-faith-based organisations, attended training sessions in March, May and July to roll-out training in their respective communities. They also signed pledges of commitment to counter-attack human trafficking in their areas.
"After listening to the testimony from the survivors, it changes their perspective … and it reminds them to be the voice of the voiceless," says Ashley Conde, the Advocacy Officer for the Villa Maria Good Shepherd Sisters. "They appreciate the support of Mercy Works, who funds the training sessions, and by interacting with the women who are in the situation of prostitution it is life-changing for them, especially the Muslim participants.
"They solidified to create a positive influence and a difference that will protect and transpire the dream of every individual, especially women and children."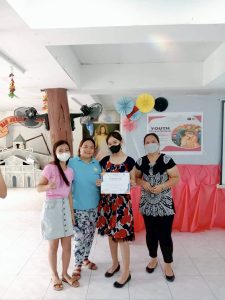 A new organisation: United Services of Women's Advocates of the Good Shepherd (USWAG) was also formed from victims/survivors in April at Maribago Resort in Lapu-Lapu City. It is composed of women survivors, with 11 officers and 35 members. USWAG is a Cebuano word, meaning to "move forward".
"As the primary stakeholders of the program, they feel empowered that they emerge from victims to advocates," says Conde. "They believe that their experiences can educate the vulnerable sectors of the community…and they are given the chance to own their own advocacy." The officers conduct orientation in famous tourist destinations in Cebu.
Mercy Works is proud to share the project has met its 6 core objectives:
40 women who have exited from prostitution, and members of inter-faith based organisations were trained to become strong advocates;
a coalition of like-minded organisations formed a support group in policy advocacy and made recommendations for new legislations to government entities;
stronger dialogues with government institutions and Provence officials was undertaken in matters of employment, education and health services;
mental health services for 55 women were provided;
research was conducted to influence policy recommendations and advocacy materials were produced to stakeholders including posters created by survivors (see below) to be used in future engagement, tee shirts and brochures produced with a hotline number on where to report cases.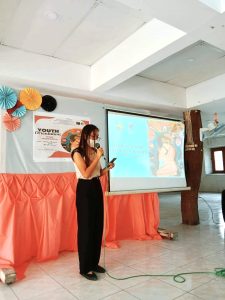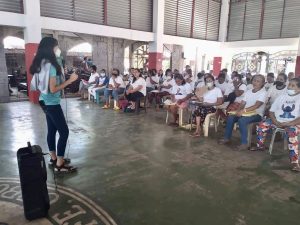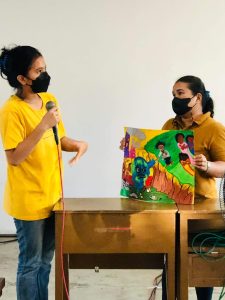 BELOW: Artworks created by women survivors of human trafficking