Home and Heartland
For thousands of years Raukkan, 80 kilometres southeast of Adelaide, was an important meeting place for the Ngarrindjeri people. It is the home and heartland of Ngarrindjeri country, a place with a deep and scarred history.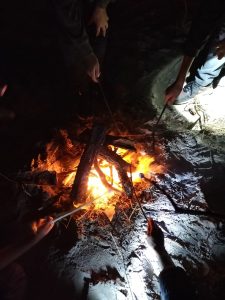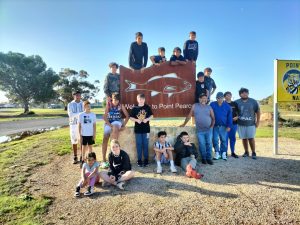 It was here, in the 1800's, a starving explorer Charles Sturt was fed by Aboriginal clans and the Point McLeay Mission was established. From here some of the first Aboriginal men to enlist in World War 1 came, and, here, a generation of Aboriginal children were stolen.
Raukkan also appears on our Australian fifty dollar note, with Ngarrindjeri man David Unaipon, Australia's first published Aboriginal author, born at Point McLeay Mission.
So it is more than fitting that this year's Kura Yerlo 'Yartangka Tirkanthi' camp, supported by Mercy Works, saw 10 boys and girls visit the sacred area for an overnight camp to reconnect to country. They made a fire, toasted marshmallows and were welcomed by Uncle Bobo.
"I can't explain how happy this makes me feel, or even the feeling of bringing our own mobs together to connect. It gives me so much joy knowing one day they will come back and say, 'I remember this fella once did this tour'," said Uncle Bobo.
Kura Yerlo hopes to give young people access to cultural and language opportunities away from metropolitan Adelaide.
"We hope to build a sense of pride in identity, belonging and resilience and that the trips will be a vehicle for healing," says Claire Fleckner from Kura Yerlo.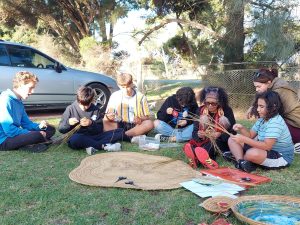 "Reconnecting with local elders will create an opportunity for the ongoing survival of Indigenous culture and pride in heritage. This process honours the potential of our young people to one day become new Elders, passing on their knowledge of language and culture and ensuring the survival of traditional skills."
Jayla, 13, (pictured below) enjoyed engaging with her Aboriginal heritage. She has since developed a renewed interest in her culture and developed an interest in basket weaving from Aunty Betty Sumner.
Aunty Betty creates elaborate mats. "The closest thing to my ancestors is my weaving, especially when I go to stand on my mat. I feel what my ancestors felt. I weave my identity within it. When you first start it it's like the umbilical cord. Like the umbilical cord of life."
By reconnecting with local elders, hearing their stories, learning their skills, Jayla says she hopes to spend more time on country as well as participate in a "girl's group" facilitated by an Elder at the school.