International Day of the World's Indigenous Peoples
Today is International Day of the World's Indigenous Peoples and we here at Mercy Works want to recognise and celebrate the achievements and contributions of Indigenous people in our society.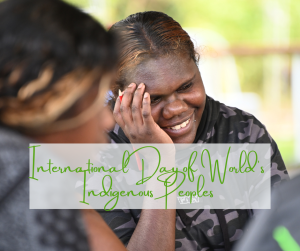 We have five First Nations projects this year, including the Cape York Girls Academy in Cairns (seen in this photo), and believe in protecting the rights of the world's Indigenous populations as well as recognising the achievements and contributions of our Indigenous brothers and sisters.
Preserving cultural heritage is essential. Which is why we have chosen our newest project – Yartangka Tirkanthi (which means 'Learning on Country') – in partnership with Kura Yerlo Inc in South Australia this year. This is giving young Aboriginal people access to cultural and language learning opportunities through visits 'on country'.
Yartangka Tirkanthi honours the potential of Indigenous youth and workers to grow their knowledge of home country, language, culture and Elders through connecting with their land.
We are connecting two youth groups with their communities in 2022, one to Raukkan (Ngarrindjeri) and one to Wirraway (Peremangk), through overnight trips.
This reconnection will strengthen intergenerational relationships, provide safe spaces for kinship connection, build positive shared memories and recognise the diversity of local communities.
"Whilst we can't change the overall landscape within which our community lives, we can provide a safe and respectful space where culture is embraced, and exploration and reconnection is encouraged and supported."

– Claire Fleckner (Kura Yerlo Inc)
We hope to build a sense of pride in identity, belonging and resilience and that the trips will be a vehicle for healing.
Reconnecting with local elders will create an opportunity for the ongoing survival of Indigenous culture and pride in heritage.
"This process honours the potential of our young people to one day become new Elders passing on their knowledge of language and culture and ensuring the survival of traditional skills," says Claire Fleckner from Kura Yerlo.
The project, in conjunction with Kura Yerlo, will also upskill youth staff to better support young Aboriginal people.
Photos: (Main Image) Courtesy of  Cape York Partnership (Below) Taken with permission from our former Tiwi Islands Project