International Day of Women and Girls in Science
On the International Day of Women and Girls in Science, we celebrate the achievements and contributions of women in the field of science. We also recognize the importance of encouraging and supporting girls and women to pursue careers in STEM.
At Mercy Works, we have been very proud of our scholarships in the past which have trained young Papua New Guineans to become Doctors and Nurses and complete their university studies. These would not have been possible without the support of the Julian Zahara Memorial Fund.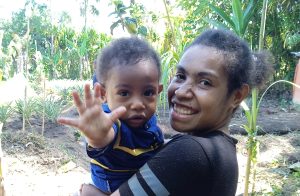 Our last recipient, Omngal (pictured here with her son Danny), is expected to compete her Medical Degree in 2024. She is the youngest student of her cohort and comes from the Jiwaka district in the Western Highlands Province.
Omngal's family manage coffee trees and given the annual fees are around six times more than the average family income to study medicine, it was necessary she seek scholarship to support her studies in her hope of becoming a doctor. Originally a Physio student at Divine World University, her academic scores encouraged her to switch to Medicine.
Our deepest Thank You to everyone at the Julian Zahara Memorial Fund for partnering with Mercy Works over the years with their Access to Education project in helping these students achieve their dreams and enable them to support their families and communities towards self-reliance, dignity, and improved standard of living.
Their continued support of tertiary students in Papua New Guinea, towards completing their Bachelor of Medicine and Bachelor of Surgery (MBBS) studies at the Divine Word University, Madang is promoting a self-sufficient medical sector within vulnerable and remote communities of PNG, by providing life-changing access to healthcare and improving wellbeing.
Let's break down barriers and create equal opportunities for all!
Photo: Supplied with permission