It Takes A Village: Today's child, tomorrow's future
Naydia Dooley, a Year 11 student who lives and learns with her 14-month-old daughter, Thea, at Cape York Girl Academy (CYGA) in Cairns, admits she wasn't always a model student.
The 18-year-old Wik Mungkan and Wadjigu girl from Pormpuraaw and Woorabinda, says there has been a profound shift in the way she views the world these days compared to her younger years.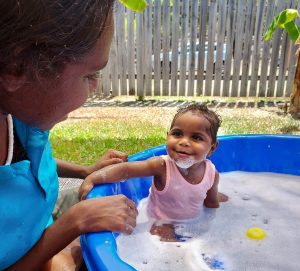 "I am Thea's mum I love her endlessly; she is my motivation to keep going through life. Being a mother has changed me a lot. Before this, I was running amock. Thinking about what my future looked like back then, it wouldn't be good.
"I used to fight all the time and get into trouble. I never had the responsibility of having to look after someone else before. Now, all my focus is on her and what she needs. It's kept me away from all that other trouble. It's a full-time job being a mum, they need you!"
Now emerging as a young leader in her community, Naydia was recently invited to speak at the Early Years Conference in Cairns, where she made the presentation: "A Village Raises a Child; Providing opportunities for young women to continue their secondary education while being a mum at school."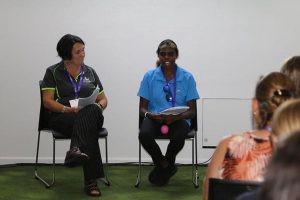 She spoke of her experiences at the first-of-its-kind boarding school for teenage Indigenous mums and their babies along with other young women who are at risk of disengaging with their education.
As a young mother wanting to go forward in life, she says the CYGA was the perfect place to study and actively raise her daughter. It has been "challenging but rewarding".
"Cape York Girl Academy gives chances to students unlike other schools. The school is non-judgemental about your past and that gives me the confidence and sense of belonging, when other schools don't, to complete my education to the best of my ability. 
"Thea loves it here. At first, she wasn't too sure because there are so many girls and people around. Then she started to get used to people and now she'll go to everyone, she's a very social girl. The girls love having Thea around. They fight over who's going to hold her.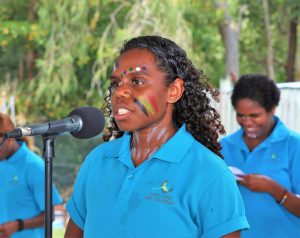 "When I need a break, they'll take her straight away. I don't feel worried because I know she's safe with them and she knows them very well."
Naydia has transformed from a restless 17-year-old into an ambitious and loving 18-year-old mum in her time there.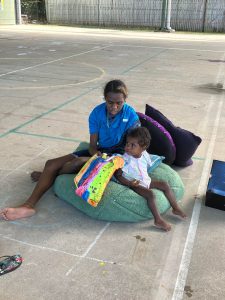 "I love being here, away from everything. The environment is calm, and everyone is friendly, and the school is so supportive. If Thea has kept me up and I haven't had a good sleep, they let me rest. They encourage you to get into class. I like being in class because the teachers make it fun. I can come up to the day care whenever I want to see Thea if I'm worried about her.
"I like all my classes and I love learning."
This year Mercy Works is proudly funding new technology for a Multi-Sensory Calming De-escalation Room to enhance our goal of growing effective and confident mothers, happy and confident children, and provide young Indigenous women with opportunities for growth and success in every aspect of their lives.
With the end of Term 3 holidays approaching, a classroom will be repurposed during the holiday break while the students are not on site, and allow the facilities team to paint and set up the room for Term 4.
"Students can go to this room to feel transported into a familiar setting before they lose control. Here they can take time to centre themselves," says Principal Mandy Ross.
"As a forward-thinking school, The Cape York Girl Academy want to elevate the level of therapeutic intervention available on campus and provide spaces where students can go before they have physical or emotional outbursts, which can often mean they lost hours of learning time. The room will reduce this time to 15 minutes."
All girls are supported by qualified trauma-informed staff and the space is co-designed with students to create familiar imagery, sounds and smells as well as specialist multi-sensory toys.
With only one year to go at the Girl Academy, Naydia is currently busily working on her Cert II Hospitality theory and also is studying to take her Learners Drivers License test in the next two weeks. She says she is very much looking forward to getting her L's and practising driving.
And while she can't imagine being anywhere else, she is looking forward to life ahead with Thea.
"I really like working with children. I'm considering becoming a primary school teacher. I really want to inspire and help other young mums out there to get to school and encourage young girls to keep going for their dreams, to never give up. 
"I was on a long-term order and I'm starting to come out of child safety now. So having Thea full-time is a really big thing for me. She's very smart. I try to teach her things. She'll be able to speak so many different languages.
"My biggest hope is just to have a good life with Thea and to always have her by my side. I just want to be happy and calm and give her the best life possible. I want to get a good job so I can give her things that I didn't have when I was younger, but I want her to appreciate those things as well."
She cites Thea as her absolute motivation to keep going through life. "I love her endlessly".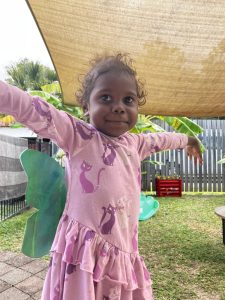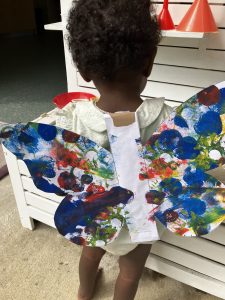 Images courtesy of Cape York Girl Academy