Janaya's Journey
Part of the overall ethos at Mercy Works is to empower communities to empower themselves. Our work with the women of the Baabayn Mums and Bubs Group to grow into their potential and to contribute to an aboriginal led movement for better outcomes for First Nations women and children is testament to this.
Meet Janaya Hickey (pictured), the early childhood educator at Baabayn – a powerhouse young mum, who's hopes of learning business administrative skills which will empower her community are being supported by Mercy Works.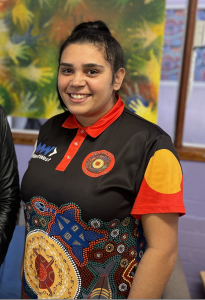 "Baabayn is the centrepiece of Mount Druitt today," says childcare worker Janaya confidently, a mum-of-one, who is growing into a much larger role at the centre. "We are the community's voice. Everything that happens in the Mt Druitt area, they come to have a meeting with our directors before they do anything. Or a consultation with the community. Usually our community is quite loud, so they have the input and that's what we provide."
She says Baabayn is a healing centre for Aboriginal women and the Aboriginal community in general.
"A lot of our mums are from the stolen generation or grew up in care not knowing who their parents and families were – and coming to Baabayn as Aboriginal people you can connect. Because somebody in our office will know your family. Because that's how it works. You can trace the lines! We all come from somewhere. We can link them to where they are from as we know the community. We give them just a little bit of information about their parents, or their grandparents, where and what they did. Or where they are from. We can take them in as our community and heal."
It's this growing confidence and growth mindset which Mercy Works is embracing, with Aboriginal self-determination the best antidote to the disadvantage compounded by many generations of trauma. Janaya has seen her role go from child carer for a one-off healing weekend in 2019, when she was first approached by her nan, Aunty Jenny Ebsworth – a respected Aboriginal elder who is one of four directors at Baabayn – to now taking on a senior role which is seeing her study for her Cert 4 in Business Administration, deal with services, run the Mums and Bubs club and organise massive NAIDOC events.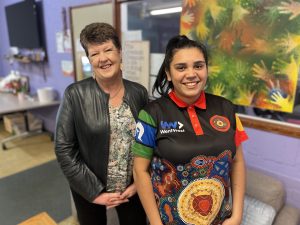 "We hope to grow our business and change the way we operate with an admin team – that way when people, agencies, and government services approach Baabayn they will see us and then we can point them in the right direction."
Baabayn runs six programs, five days a week – a Healing Circle, Homework Club, Mums and Bubs Club, Pick Up Sis Youth Program for Aboriginal High School Students, and a Creative Open Day in partnership with Blacktown Arts.
"We have around 150 attendees a week. We are the connection for the community. So even when the community has a problem with another service, they will approach Baabayn to intervene and help the community member feel comfortable to attend that service.
She says many mums suffer with mental illness, PTSD, and trauma from their own upbringing and as they become mums the trauma is still there.
"To stop the cycle we create a comfort space and support the mums through their journey for as long as they need whatever day, we're always available. We really want to keep our bubs together and not lose them to the system and let it repeat itself, as a lot of our mums don't have mums or dads so a lot look at us for guidance – so we help them – we treat them like their babies, and they grow wings and can fly away."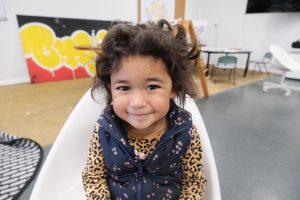 Many of the mums in the group find employment through the program. This year nine of the Baabayn mums were invited to showcase their artworks in an immersive display of art projections at Crown Sydney's inaugural Vivid Sydney activation, The Gallery. And one mum of five, with a background of domestic violence, has turned her life around and is in full time employment.
"A lot of mums have started their own business. They now sell at the markets; they have their own websites. We have a guy come in and show them how to build and run a website – we provide mentors for them and if they have an issue that mentor will guide them into the right step – if not Baabayn will usually pick up the slack. We help them with equipment, like they market stalls and EFTPOS machines, or a printer at home. Now they have businesses growing!"
Originally starting from a circle of eating and talking, Baabayn stands for 'Ancestral Woman' – which comes from  the Nambucca Region. "That's what our aunties felt – the name related to them and where they are from. Our directors are four strong Aboriginal women."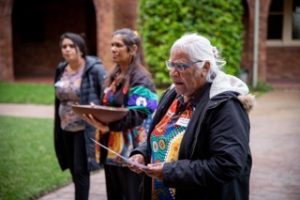 It's these women who still inspire Janaya today.
"I've known these women since I was a baby and to see their dream come to life; the family days and the Christmas parties and the excursions when we go away as a community – to actually be a part of it today is amazing. My kids will grow the way I did. And that's what I want. To make sure my kids get the upbringing I had. I was exposed to all of these beautiful women very, very young, and you learn a bit every single day. 
"The elders come on Tuesday and stay here all day. We have yarns, consultations, excursions, and they are happy, and that comes with my moral code, my Aboriginal law which is my land, my origin, my respect, and my elders. I love my elders, they're the ones that guide us through life. That's my morals, and that's how I run."