Learning To Fly at Cape York
The Cape York Girl Academy is a first-of-its-kind boarding school which provides Indigenous teenage girls – who are young mothers, or otherwise at risk from disengaging – the opportunity to complete their education. 

At Cape York Girl Academy, teenage mothers and their babies live and learn together, gain life skills, prepare for future employment and improve and maintain their physical, social and emotional well-being. They learn essential parenting skills to care for their own children.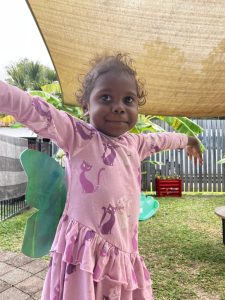 In partnership with The Cape York Girl Academy, Mercy Works has built a new sensory technology room this term for a culturally appropriate Multi-sensory de-escalation reflection room. Students can go to this room to feel transported into a calm and familiar setting that supports emotional self regulation. Here, they can take time to become calm and open to problem solving and healing.
"The multi-sensory room at Cape York Girl Academy has added a space for students to seek support and engage in help-seeking behaviour when they are feeling emotional dysregulation. It encourages students to recognise the change in their bodies and emotions and seek connection," says Principal Mandy Ross.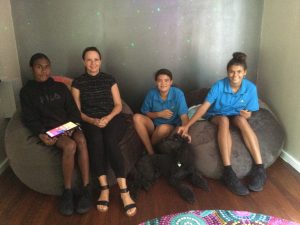 "During times of emotional dysregulation, students can lose hours of learning time with their teachers; the multi-sensory room can reduce this time to 15 minutes", she added.
 Sr Sally recently visited the Academy and reports with great enthusiasm how cherished the room has become for the students."It really is an amazing model of an Indigenous girls boarding school," says Sr Sally.  
In the room are tools to support the students to engage in self-regulation including two emotional regulation pillows, art and craft supplies, coloured dough, pencils, textas, paints, an essential oil diffuser, a small projector with coloured lights to give soft mood lighting and worksheets to share their stories to develop confidence and self-awareness.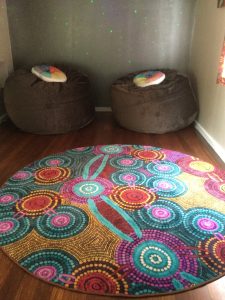 "The Junior students (Years 7-9) assembled the furniture for this special room and helped the Social, Emotional and Wellbeing Counsellor, Miss Rebecca, design and decorate the room, which also has large comfortable bean bags to relax in. There are also emotional regulation pillows which assist the students to identify and express their feelings and build trust and a beautifully designed circular coloured mat" says Sally.
"The girls shared with me how calming and special this room is and how much they love to come here."
The girls go home to their family and Indigenous community every school holiday as well as at Christmas and this year Mercy Works is proud to share that four students will graduate for Year 12. Congratulations!