LETICIA'S STORY
In the Leogore sub-district of the Maucatar District in Suai-Covalima, Clarisia*, aged 35, is a single mother of three children, who lives with an intellectual disability.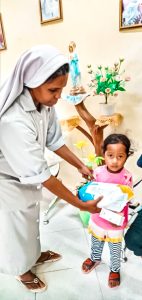 When the Sisters came to know her in 2017, through their door-to-door visits, Clarisia was pregnant with her third child, Leticia* (pictured left). From here the Sisters closely monitored both mother and child and provided them with all their necessary nutritional needs.
When Clarisia's daughter, Leticia, was born in March of 2018, she was a healthy height and weight. "We also encouraged Clarisia to exclusively breast feed," says Sr Gilbert.
"And we provided many provisions of food and other materials to protect her and the child."
But when Letitia was eight months old the Sisters lost track of both Letitia and Clarisia. "She moved away to live somewhere else," says Sr Gilbert.
It was during the village-to-village nutritional program the Sisters started in 2018, they found Clarisia and her little girl.
"We found her again, but the child was severely malnourished. But we knew through the Mercy Works program we really could save the life of this child," says Sr Gilbert.
As well as severe malnutrition, children in Timor-Leste are especially prone to many infectious diseases like Diarrhoea, Scabies and Upper Respiratory Tract Infections.
"Constant monitoring and treating her with a good balanced diet, including protein from eggs, saved her life," says Sr Gilbert. 
"We have saved many children from acute illness, even during the time of lock down, as we continued our program without fail conducting house-to-house assessments.
"The Mercy Works nutritional program gives good care to the mother and the children, its good to help and reach out to the remotest villages to care for and save lives."
Mercy Works is happy to report Leticia is now healthy and thriving and reaching her milestones.
YOU CAN SUPPORT more people like Clarisia to gain the necessary skills in nutrition and hygiene they need to triumph over poverty and increase the quality of life for themselves and their babies by DONATING to our Tax Appeal.
*Clarisia* and Letitia*'s names have been changed to protect their privacy
All Photos supplied with permission courtesy of Hospitaller Sisters of Mercy
DONATE NOW