Mercy Works Meets Mildura!
Visiting St Joseph's College, Mildura
What a treat it was to finally get out of the office and into a school last month!
Mercy Works was finally able to visit a school after two years of lock-outs due to Covid protocols, when we headed to Victoria and visited St Joseph's College in Mildura after an 18-month negotiation period.
At the invitation of College Principal Marg Blythman and Paula Cox, Director of Catholic Identity, our Executive Director, Sally Bradley RSM, and Communications Coordinator, Jo Casamento, were able to make a three-day visit to conduct a series of presentations to both students and teachers on the work Mercy Works does; giving overviews on our projects, sharing our stories and presenting on Catholic Social Teaching.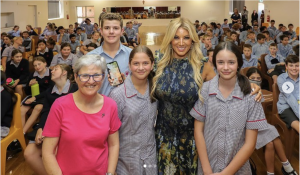 Over three days we were able to present on a range of our projects, to create understanding around the work Mercy Works does both here in Australia and in Papua New Guinea, Timor-Leste and the Philippines.
We shared stories from our Creating Change For Women Through Advocacy Project In Cebu with student leaders, informed Year 7 and 8 students of the work we do with young Indigenous girls of the same age who live and learn with their babies at the Cape York Girl Academy and the daughters of  women who work in prostitution who reside at Balay Banaag in The Philippines, as well as highlighting to the teachers at the college our First Nations Projects and the Emergency Relief Roll-out in Papua New Guinea last year. We also shared stories about our work at Katilosa Centre for the Disabled in Timor-Leste and our Baabayn Mothers Group Project in Mt Druitt.
On our last day, principal Marg Blythman presented Sr Sally with a cheque to go towards our projects. The Student Leadership team also generously presented us with a cheque from the fundraising they had completed throughout the year.
"Thank you so much Sally and Jo for being with us – and reminding us that we can be part of something bigger and greater than all of us," said Marg handing over the cheque at the staff day.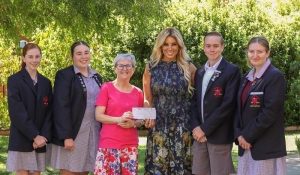 Not only did we get the chance to meet the wonderful teachers and students and enjoy the incredible mercy hospitality of Mildura, but we were also able to get a sneak peek of the new Mercy Heritage Centre built at the School. And it is something to behold!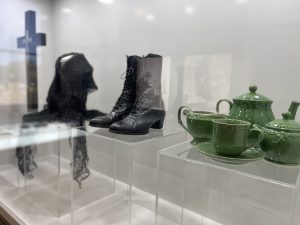 It is an incredible homage to the Mercy Sisters who first travelled and set up schools in Mildura as well as a tribute to their roots and connections back to our founder, Catherine McAuley, and the "boots on" mission of responding mercifully to those in need or suffering that has spread so far across the globe from Baggott Street, Ireland.
We enjoyed a good cup of tea, some scones and delicious treats in one of the heritage tea rooms with the Sisters of Mercy who live in Mildura.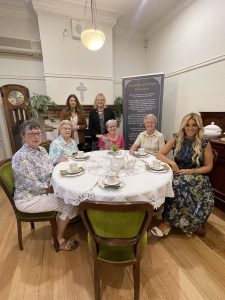 It was a true reminder of the powerful steps that can be taken when children receive mercy from the primal source of school and can then set on their journey to lead a purposeful life.
"Sharing the work our partners and staff on the ground do, is our passion here at Mercy Works and one we are incredibly lucky to do," said Sr Sally.
"We are incredibly grateful for the wonderful donation. It will go to reach some of vulnerable people and their communities both here in Australia and in Papua New Guinea, Timor-Leste and The Philippines."
The Mercy flame is strong!