National Volunteer Week
Next month it's National Volunteer Week so the perfect time to get in early to express our admiration and gratitude for our amazing team of volunteers across Australia! 
And a very special thank you to all our donors who make this volunteer program possible.  In Melbourne, we are grateful to the Collier Charitable Trust who support our largest Mercy Connect volunteer program, mentoring refugee and asylum seeker school and adult students across 50 educational facilities.
And there are so many reasons to celebrate. Our volunteers are keen and waiting! A few weeks back our team in Melbourne were excited to conduct a Training Day. Thirty participants are now all placed in schools and ready to begin their volunteering!
"We are stronger than before Covid," says our  Mercy Connect Melbourne Coordinator, Sr Mary Lewis RSM.
"Old school friends met, there were morning tea bags and there was a lot of sharing, listening and learning."
The team in Melbourne have also returned to the Mercy Connect Adult Literacy program at the Dandenong Library. Here Mercy Connect volunteers meet once a week with refugees to support them in learning English.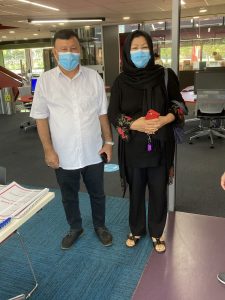 "The library doors opened at 9.00 am, the volunteers and students walked in, said hello to each other and by 9.05 all were back at 
the tables and carrying on from where they left off almost twelve months ago! It was amazing to see no fuss just get on with the task at hand," said Sr Mary of their first gathering in March.
Our selfless volunteers are the lifeblood of this program and fulfil a need in the community by providing a smoother transition into schooling for primary, senior and adult students.
The support they provide for these students is immeasurable and makes such a difference to their lives and education, opening doors for their future success.
"I realise how much I treasure this wonderful opportunity that you and Mercy Works have given me, said one of our volunteers, Pauline.
"When I signed up for the program last year I knew I would enjoy it, but I had no idea how rewarding it would be."
"It has really made me realise how much of a help I can be to young people," said another of our volunteers. "Especially those from refugee backgrounds and how passionate I am in leading them to discover their abilities and ensure they know they can achieve anything they strive to."
For Johanna, a new volunteer at Sacred Heart Primary School in Fitzroy, the training day was a gift.
"It was a real gift for me.  Of particular interest for me was a deepened understanding of the refugee experience and the child safety standards. I look forward to participating in this wonderful program that you set up and support. May God continue to bless your efforts," she said.
New volunteer Peter, who will be working at St Luke's Primary School, Wantirna, said the training day was challenging and informative.
"You clearly have a passion for the Mercy Connect ministry/mission. It's clearly Spirit-filled. Good on you. God Bless!"
"Despite the disruptions of lockdowns, it has been a pleasure and a privilege to be able to get back in to 'harness' again. I must admit I was not handling my move from being a full time teacher into 'enforced irrelevancy' very well. The opportunity that Mercy Connect gave me was very important to my self-image and frame of mind. I was useful again," said Brett, a current volunteer at Academy Secondary College, Fitzroy.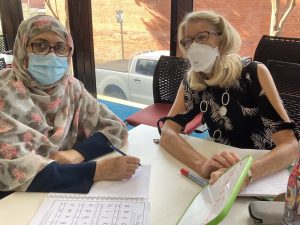 Volunteerism empowers individuals to find their purpose, to take their passion, and turn it into meaningful change.
Mercy Connect was launched in Melbourne 2011 and since then has been devleoped by Sr Mary Lewis RSM. Under her guidance it has  grown into a program supporting the refugee and asylum seeker community in an indelible way.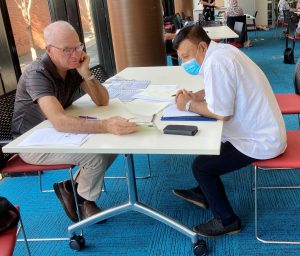 Prior to Covid, Mercy Connect Melbourne had 150 volunteers and operated in 53 Primary, Secondary Catholic and Government schools, supporting more than 595 students of a refugee background by providing literacy and numeracy support during class time.
In 2019 Mercy Connect won the Volunteering Victoria State Awards.
This program would not be able to operate without the generous and ongoing support of the Collier Charitable Trust.
Photos: Sr Mary Lewis RSM