Reflect. Respect. Thoughts from our Board Director Steven Collins on the date January 26
Here at Mercy Works we stand in solidarity with our First Nations sisters and brothers. We are taking some time today to reflect and celebrate our culture diversity, but also to recognise the truth of our past.
Mercy Works has seven First Nations projects, where we partner with the most vulnerable toward opportunity, dignity and self reliance in the spirit of Catherine McAuley.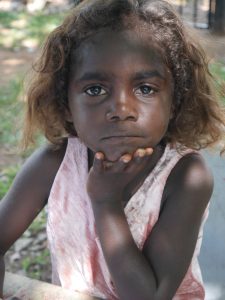 This little girl is from one of our past projects where we supported a pre-school on Bathurst Island, home to the Tiwi people, approximately 80km north of Darwin. It was taken by our outgoing Program Manager for Overseas and Indigenous Projects, Sr Anne Foale RSM, on one of her visits there. 
Helping children to have access to early education is so important to closing the gap. Here the Mercy Works community funded three teacher's assistants to complete their Cert 3 in Early Education as well as extending the capacity of the building, the length of day, the pre-school program and medical attention to create a strong chance for 4-5 year olds to enter Kindergarten.
Our other projects around Australia include:
The Baabayn Aboriginal Corporation in Mt Druitt NSW – a childcare project with 25 Indigenous young mums and 20 babies and toddlers who gather each week to enjoy culturally sensitive programs;
Prospering After Prison – Port Augusta in SA where Aboriginal women are supported by dedicated caseworkers to help them build personal & financial resilience after prison;
The Miewi (Spirit) and Cultural Matters, Adelaide, SA where we support healing from trauma by rebuilding ties between community and country and celebrating culture and traditions;
Salt n' Pepper, Adelaide, SA where we support for Aboriginal women released from prison returning to family;
Our Adelaide First Nations Advocacy, Adelaide, SA is where we advocate with the Department of Child Protection for family and community placement for children and awareness-raising with the Aboriginal community of child protection issues.
The Cape York Girl Academy in Cairns is Australia's first boarding school for young mums and their babies where the focus is on holistic, healing mentoring of young women to reconnect with their education for hope-filled futures
Special Measures, Brisbane, QLD addresses two aspects of human rights: the right to empowerment and self-determination, and special measures to overcome racism through establishing an effective training centre through building a website.
Our new Board Director, Steven Collins, is Indigenous.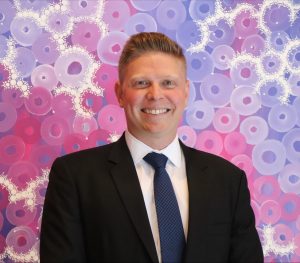 Steven has written his thoughts on the range of emotions January 26 can stir up for many. He says:
"This day seems to stir up a range of complex emotions and strong feelings for many, if not all, of us. For me, it reminds me of the importance of truth telling, and its critical role to the ongoing process of healing and reconciliation in Australia.
"The reality for Aboriginal Australians is that day forever changed our way of life. The history, tradition and culture of Aboriginal peoples and their experiences of injustices following colonisation has been largely unknown. However, there is a growing momentum among Australians to develop a fuller understanding and awareness of our history.
"Truth telling is not just about acknowledging the atrocities of the past, but is also an opportunity for Aboriginal peoples to share their culture and language with their communities. Our Aboriginal cultures are amongst the world's oldest – something to be proud of, practised and celebrated every day."