Solid Ground – Lights, Art and Spotlight!
Empowering the everyday lives of the women of our Baabayn Mums & Bubs Group to grow into their potential and to contribute to an Aboriginal-led movement for better outcome for First Nations women and children is one of the key goals of this Mercy Works partnership project.
And this year is already providing spectacular results!
In May, nine of the mums of Baabayn were invited to showcase their artworks in an immersive display of art projections as the centrepiece of Crown Sydney's inaugural Vivid Sydney activation, The Gallery.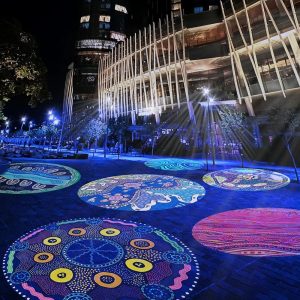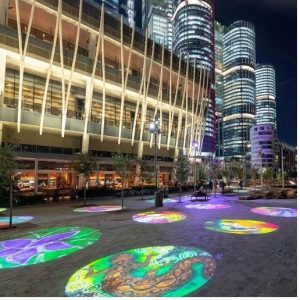 The spectacular lighting projections created a 160km walk through experience along the landmark Wulugul Walk at Barangaroo, bringing to life the works of the talented Baabayn mums and other First Nations students from Blacktown and Redfern. This was part of the Solid Ground program for Western Sydney's emerging artists.
Not only did the artworks transform Crown Sydney into a stunning visual gallery of light projections, but the mums were also invited to a VIP cocktail party at The Crown Hotel where they and their families were treated to a media event celebrating the success and stories behind the art and the artists.
"All of the mums were excited to visit Sydney City and view their artwork and to share on their pride and happiness on their social media," says Amanda Peachey, a program support worker at Baabayn.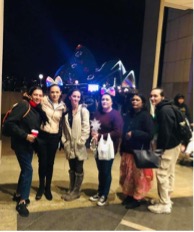 "We have seen an increase in confidence from the artists themselves, showing enthusiasm to continue to paint and share their experiences and a few of the artists have since been approached for commission pieces and grown their business portfolios."
The Wednesday program has opened up many business opportunities which increased financial independence for the mums involved. The mums have since held a fete stall of artworks, jewellery, clothing and pieces created by themselves at a Baabayn NAIDOC event with more markets to come."
Mercy Works is proud to support the "bubs" component of the group which engages Aboriginal children in cultural, educational, health-promoting and healing activities in weekly three-hour sessions. This includes storytelling, learning culture, native gardening projects, motor skills activities and pre-school literacy and learning sessions.
Meanwhile, their mums participate in programs like Real Futures Job Training 'Bring Your Bills Day' with Legal Aid and The Western Sydney Local Health District's Public Health Unit for a breast cancer 'Bedazzled Bras' initiative. Other aspects have included dealing with Government departments like Birth Deaths and Marriages and the Learning Driver Mentor Program. It's designed to empower, promote healthy lifestyles, and enhance life skills.
For mum of three, Alycia Nicholson, the opportunity to show her artwork has been a "highlight" of her time at Baabayn.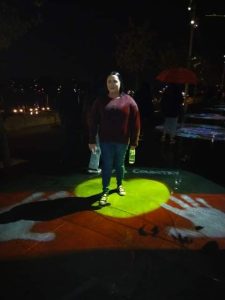 "Having an art piece has made me so proud of myself and now my children are participating in more programs that Baabayn have to offer. The program gives me confidence to be able to teach my children about their heritage, it also give me the opportunity to meet other mums who have the same or similar situations to my own."
Alycia, 28, is not Aboriginal. Her children are Indigenous from their father's side. "My children are from the Dharug tribe, and I am doing all that I can to help them along with their cultural journey by participating in cultural activities," says Alycia, who is also full-time carer for her niece.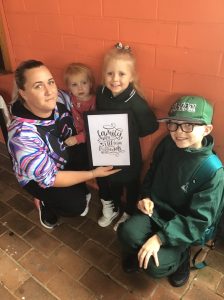 "When I initially started, the mums and bubs group was focused on Indigenous arts and telling my story of involvement for my children. I was culturally accepted as an individual, but also as a mother taking in knowledge to be able to teach my own kids."
Part of Baabayn's philosophy is that it is designed to empower not only Aboriginal women but also non-Aboriginal mothers of Aboriginal children.
"My life has changed in a cultural way. Being a part of an Aboriginal community has helped me explain so many more thing to my children, things they didn't know and helped them with their identity and to be proud of their aboriginality.
"The program has helped me identify different culturally safe services that can provide help for my children with their needs, whether that be medical or educational. I like that this program gives me confidence to be able to teach my children about their heritage."
All Photos: Courtesy of Baabayn Aborginal Corporation
See the artists of Baabayn