THANK YOU! Chicken and Egg Tax Appeal
 – from Sr Sally Bradley RSM
WATCH NOW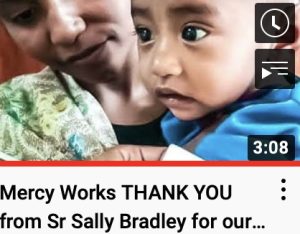 I would like to take this opportunity to say a very BIG Thank you to all those who so generously donated to our Chicken & Egg Nutrition July Tax Appeal in Timor-Leste!
We are thrilled to let you know that we have reached our target of $13,000 which will go to support our partnership project with the Hospitaler Sisters of Mercy in Maucatar, in the Cova Lima district in Timor Leste.
This project is based at the Teresa Orsini Clinic. The staff work to improve the nutrition of mothers and young children who attend the maternity clinic, and they also conduct outreach programs to 22 villages in the Maucatar catchment area.
Our Chicken and Egg project is simple in design but powerful in impact. The Maucatar Nutritional/Hygiene Project have supported over 1,300 women and children with health education and monitoring, as well as activities aimed at improving nutrition, personal hygiene and sanitation.  Recent activities included COVID-19 awareness and handwashing, workshops on raising hens and creating a kitchen garden. The staff also provided soap and face masks to communities.
Chickens and eggs are considered one of the main sources of protein in the diet of the people of this mountainous area.
They also provide community education and nutrition, to 50 girls who stay at their hostel.
Sr Gilbert who runs the Clinic said to us in a recent report –
"By raising egg-laying hens, families are able to raise their income and live a better quality of life. Many of the families have followed the lessons and advice we are teaching and demonstrating. Having a good balanced diet for every member of the family will build a healthy community."
Our Overseas Project Manager – Maria is looking forward to visiting Maucatar in September. At Mercy Works we are very proud of our Chicken and Egg project which we believe SAVES lives in Timor Leste.
Sally Bradley RSM