The House of Hope
'BALAY BANAAG OFFERS THESE GIRLS A FUTURE'
It's fitting that
Balay Banaag
– one of two projects
Mercy Works
is proud to partner with in The Philippines – translates to "House of Hope".
For the 15 girls aged between six and 18 who live and learn here, all daughters of females working in prostitution, the residential centre provides shelter, support, education, and an opportunity to break the cycle of poverty for girls "at risk".
Located in Davao City and in partnership with the Australian Marist Solidarity, Balay Banaag aims to provide a protective and caring environment, as well as emotional and psychological support to these children to help them overcome their painful abuse experiences. The aim is to transition them back to mainstream schooling.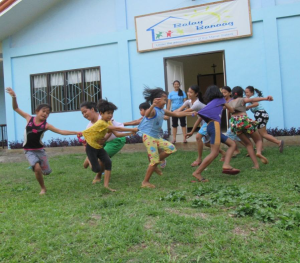 One Marist priest, who visited the centre recently, reported the girls who live there describe Balay Banaag as being like a security camera, such is the safety they feel.
"For them, Balay Banaag has modelled them to become better persons…they feel supported and cared for. Their stay has changed their way of thinking, that is, to make studies a priority for their future. They know the sisters are looking after them and are ready to support them for food and shelter and they feel home and safe. Balay Banaag is a home where they can freely express themselves and develop their gifts and talent," wrote the priest who visited the residence in November 2021.
"They are empowered and guided well. They described Balay Banaag like a CCTV in a positive way, that monitors and guides them and keeps them safe."

The girls who live here are vulnerable to exploitation and abuse. It is one of the most impoverished communities in The Philippines. Many have experienced physical, emotional, or sexual abuse and face discrimination because they are daughters of prostitutes. They participate in life skills training, therapeutic and counselling sessions and maintain collaborative relationships with their mothers and families.
"If this project did not exist, I think the girls would be lost and go hungry. I think there is no other place that can accommodate the children of the prostituted women in the city… the children would be working in the streets like their mothers. Child prostitution would be rampant. This project is special that needs expertise and dedication to work for children in need of protection. Many children like them would become victims of abuse and exploitation without the service of Balay Banaag."
And despite the challenging impacts of Covid, which saw restrictions imposed and visitations with their mothers limited, Mercy Works is proud to share two girls from the centre were re-integrated back into their family in October 2021.
"Balay Banaag offers these girls a future with dignity, hope and independence," says our outgoing Overseas Project Manager Sister Anne Foale RSM.