The Power of One
The Power of One
SOWING SEEDS IN TIMOR-LESTE
It was during a UN-fact finding mission into the Baucau District that Laurentino Guterres, who was acting as an interpreter for several UN bodies leading up to Timor-Leste's official independence, met a blind woman who ran her own business.
He began organising regular group meetings of people with a disability, with the blind woman as the key spokesperson. Two decades later, that group has grown to over 250 disabled people across 13 remote villages, and now employs six locals.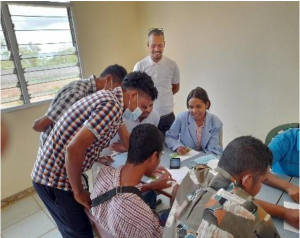 The Katilosa Community Centre for the Disabled is one of three Mercy Works projects in Timor-Leste. Run in partnership with the Australian Marist Solidarity (AMS), this local NGO supports children, youth and adults with a disability with a goal of good health, quality education and reducing inequalities.
The centre provides physiotherapy, assessments, referrals, and support as well as an Inclusive Education program for children and adults unable to attend their local schools. Despite the centre having to adapt in Covid to a full outreach support model, 97 children and adults were still delivered services.
Staff visited the homes of the disabled and carried out at-home therapy, teaching families how to do self-therapy in between scheduled visits, as well as Covid safety sessions and distributing school equipment.
And in further good news, students from Dili University are now helping in the centre, teaching visually impaired students Braille and how to communicate. According to Laurentino the children have made "remarkable progress in just a few days".
"They are keen to learn this form of communication," he says.
Brother Paul Gilchrist, who was able to visit the centre in November, also observed a music and maths lesson taking place at the centre.
One of the wonderful aspects of Katilosa is that it employs people with disabilities as well as helping others with disabilities prepare for work. This in turn reduces inequalities and increases public awareness as people with disabilities often face discrimination in Timor-Leste. In a visit in January of this year, AMS staff reported local community members explain how Katilosa was helping them understand and accept people with a disability.