#TheTwoOfUS
Christine, 70, and Rodiayh, 26, met through Mercy Connect Sydney when Yemen refugee Rodiayh arrived in Australia by boat and started at Bankstown Senior College where she instantly connected with our volunteer, Christine, who she calls her 'Life Guardian'. They've been each other's closest confidantes ever since, becoming friends for life. Here they share their special story. 
 "I was born there, born to suffering. My beginning is like a dot at the end of a line with no beginning….. I left all my sorrows and pains in the boat that sank in Australia's waters …" – Rodiayh, former Mercy Connect Sydney student 
CHRISTINE: Early in 2015 I was introduced to Rodiayh, a shy year 10 student who was described as withdrawn. Her trust and our easy connection were, I think, a surprise to us both. Shyly she responded to my gentle enquiries.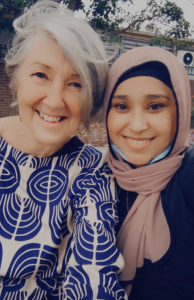 A crumpled piece of paper pulled from her pocket on our second meeting outlined her enormously difficult journey as a refugee. She offered a small heart-wrenching account of her life before arriving in Australia. From there somehow, we've never looked back. Rodiayh was always up for a challenge, from small steps to surprising leaps of imagination. She is a gifted writer. She has a lovely gift of metaphor in writing. She won a couple of writing competitions at school; her words are so honest and imaginatively framed.
It was in 2009, a year or so after I retired from an art teaching career, I had spotted a volunteer call up in the Sydney Morning Herald with Mercy Connect. It felt a perfect fit, a chance to give back after a career that had offered me so much. After working in several schools, I moved to Bankstown Senior College in 2012 where the highly committed staff were able to identify students in special need of support.
Just a year or two back, I've had the privilege of joining a large gathering of Somali women at Rodiayh's house, long after she left school, as her mum farewelled a friend leaving for Melbourne. The gorgeous outfits, dancing, singing, and shared foods allowed me to taste a world way beyond my imagining.
Rodiayh and I have shared films, botanical garden walks (both Auburn and Mt Annan), a visit to the Powerhouse Museum with the twins and my grandsons but perhaps most memorable for me was a trip to observe World "Wuthering Heights" Day in Sydney Park. Many hundreds of Kate Bush lookalikes gathered to dance, and a choir sang on a hillside as we both "escaped".
Rodiayh and her family face an unreasonable wait for their family protection visa which would challenge the best of us. This prevents her from the study of now expensive TAFE diploma courses and receiving a student loan, but she has made the best of working in a low paid and low skilled office job AND working in a COVID testing station! When I heard she was working there, I thought; 'you're my hero!' That's just amazing. Best of all is a young man I have met who recognises Rodiayh's exceptionally warm heart and spirited character. I wanted to take them to lunch, but they were happy with my home-made soup.
Just two nights ago we hugged and sat together at her home, meeting for the first time in almost five months. She had just gotten home from work but made me Somali coffee and cooked wonderful spring rolls her mum had made and frozen which were welcome as I was starving! We talked together about the future and her dreams.
Now Rodiayh is 26 and I know we are friends for life. So much in life is fortuitous. I am so much richer for giving that little hand of support. She is remarkably resilient. Her strength of character, her creativity, her warmth, her mothering, her loyalty to her friends, her talents. These are among the many reasons why I love this young woman.
RODIAYH: In 2015 life smiled at me again. At Bankstown Senior College I met Ms Christine, a woman full of life who was to become my lifeguard. She was the first volunteer person I met. It was at a time when I had fallen into a sea that I could not get out of, and she was the hand that lifted me up. 
Ms encouraged me to do the things I love. She helped me in my practical, school, and social life. Ms was my advisor, she gave encouragement, and determination and today she is still that to me. I was a shy girl by nature and antisocial. I still don't make friends easily but just talking to her on that first day, I knew that I could bury my secrets with her. I felt that feeling of a friend, mother, and sister had arrived that I've never had. I remember when she said to me, I am a part of her family. That made me cry a lot and I couldn't hold my tears. 
My grandparents came with the first wave to Somalia, but because racism overshadowed humanity, my parents took the second wave to Yemen. With each wave, the sea has carried a story. And fate judged those stories to be repeated. I was born there, born to suffering. My beginning is like a dot at the end of a line with no beginning. Once again fate whispered to us that the wave was coming.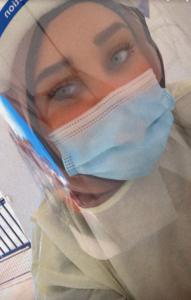 From my childhood I used to call Australia my dream land. I wanted to be the one to ask fate to stop the waves and give me a future. After three years in a refugee camp in Indonesia we were all called boat people. I left all my sorrows and pains in the boat that sank in Australia's waters. It's the reason I don't like to go to the beach, and l don't like to hear the sound of the sea. It's strange to have that thought, to dread those memories and the sounds that drowned in the sea. They come back to me when I go to the beach. 
Ms was my inspiration when I wrote a story for a writing competition at school, and she was the first to read it. I always loved it when she read my stories in her voice. I call her Ms not because she was my teacher at school or because it's a habit, but I call her Ms because she is still the Ms who smiled at me when I was in one of my saddest times, supported me when I felt my weakest. She was always the guardian of my dreams.
I tried to call her Chris but ended up with Ms. The first time I went to the theatre was with Ms in Bankstown. I was so excited and happy! For me it was a different world, and I loved the discussion that took place between us after the play ended. I still remember every word. Even the first time I went to the cinema was with Ms. We saw the movie "Brooklyn" which we both loved. I have many bad memories. But everything with Ms has a special place in my memory that I will never forget.
Since leaving school I have mostly worked in childcare. The children I looked after then also called her Ms. I think that If I hadn't met Ms at school, I wouldn't have finished high school and I wouldn't be who I am now, a strong young woman.
I decided I wanted to be a frontline worker during COVID as a COVID-19 tester, to give my dream land a hand in bad times. She still encourages me to study and learn so that I can have a better job and life. She also encourages me to stick to my dream that one day I will be a writer. 
Ms is always the first person I asked for help for my family or me. During COVID she was the only one asking about my family and me specifically. We live in one of the 5 LGA areas of concern. It was hard as one of my brothers had COVID and we all had to be isolated at home. 
I am still working in childcare five days a week and weekends at a COVID testing station. I love to help people and be close to children. I wish I could take away all the pain and tears from children and give happiness instead. I wish all children in the world to not have a single day of worry and to have a childhood not like my one. I wish to work one day with children with disabilities and offer a different life from mine.
The advice I have for any refugees/asylum seekers (even though I am not good at advice) is that Australia offers a chance to have a better life for us and our children. We must try to build and leave a beautiful imprint. And for the volunteers or teachers? Touch the heart not the papers, because most of us had great difficulty in finding ourselves. From the inside there are reservations that bind us from the society we come from, which overlaps and makes it difficult to learn. 
I am sure that Ms will be with me all my life and I can't imagine one day when she will not be next to me. Kindness shines from her eyes. I love her.