"Thinking Big, Starting Small": Creating Change in Simbu with SME
Celebrating Small Business Enterprise in Simbu
It's International Micro, Small and Medium sized Enterprises Day and we want to celebrate the incredible work our Mercy Works Simbu Project Coordinator, Sr Maryanne Kolkia RSM, does in this area which is changing the lives of individuals and communities through economic empowerment.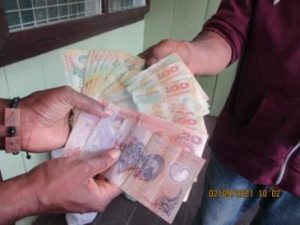 Passionate about creating positive change, Sr Maryanne is behind the SME support and training which is seeing individuals prosper and turn their dreams into reality or, as Sr Maryanne puts it; "thinking big, starting small!"
The concept is simple: Mercy Works provides an amount of money to be used as start-up capital by individuals or groups, which is returned after every two weeks, the same money passed on to another, then to another…. We also provide support with logistics, financial material, and seeds as start-up capital, with a clear direction: "The primary goal; to make money together and grow money together in achieving bigger and better dreams in life. Work, multiply, keep yours and give back what's given to you," says Sr Maryanne of the simple yet effective concept. "Community responsibility remains the calibre and catalyst for real change in regards to improving the quality of life for all."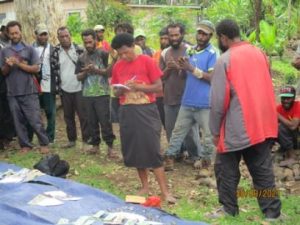 Here are just a few examples of how SME is changing lives in PNG:
One 67-year-old woman, living with HIV/AIDS for more than 20-years, engaged in the thirty-kina project in June 2021. When the Mercy Works office was first established in Mingende – she was one of the first 21 individuals involved. After three months she earned a total of PGK1,350 (A$530), enabling her to repay the loan, and release new funding for another individual. The program is helping to realise her personal dreams and goal to build a permanent house for herself.
She also requested to borrow two additional loans totalling PGK650 (A$200), with 30% interest being repaid in three months. Her savings reached PGK4,000 (A$1,560,) making her vision to have a permanent* house built within three years possible (*upgrading materials from bamboo walls and grass matts to brick, wood and cement floors with a galvanised iron roof…and sometimes, this includes an electricity and water connection). She is optimistic, committed, hardworking, and so determined to achieve her goal.
---
A displaced youth discontinued his education after grade 12 due to financial constraint and family problems.
He began his journey with Mercy Works in Goroka in 2019, where he engaged in the youth program through short-term financial development goal activity, selling manufactured mini goods known as "Table Market".
He was unsuccessful after three attempts of going back to school. One morning, he came to the Mercy Works office explaining that he would be better off in the village than struggling in town. He requested bulb onion seeds and a bush knife so he could return to his village in Simbu and till the land.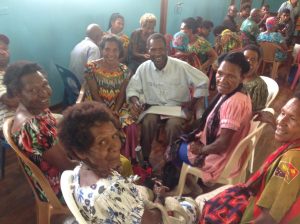 His request was granted, and he started working with his immediate family, doing the gardening. Later, other members in his clan, particularly the youths, joined. A cooperative was formed consisting of forty members working as a group, coordinated, coached and mentored by the youth.
During the period they had 3 harvests, a total of 135 nets of onion bulb, generating PGK9,888 (nearly A$4,000). His clan's cooperative boosted the interest in nearby villages and clans. As a result, three new interested groups formed, and reported that they would like to partner with Mercy Works.
---
One youth reached PGK1,000 (nearly A$400) within two months, by becoming engaged in ordering chicks from New Birds company in Lae, then travelling highlands Highway supplying poultry farmers with chicks!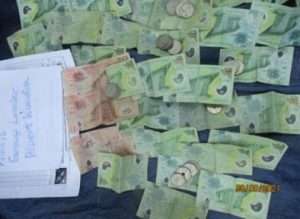 Individuals engaged in financial mobilisation progressed from short-term to medium- term financial development goals that include trade store, poultry project, piggery, and fish farming. 
A man expressed gratitude to Mercy Works for the start-up capital of seedlings & the thirty-kina which enabled him to make enough money to pay for his daughter's school fees. His success story encouraged others.
---
We wouldn't be able to conduct this work without the generous support of The Noel and Carmel O'Brien Family Foundation to whom we are incredibly grateful.