Voice, Treaty and Truth: Why Australia must have an Indigenous Voice to Parliament
Mercy Works proudly supports the "Yes" vote in the upcoming referendum to constitutionally enshrine an Indigenous Voice to Parliament. Here is why Australia must have an Indigenous Voice to Parliament:
Last Thursday, our Executive Director Sr Sally Bradley had the "wonderful experience" of attending the Catholic Coalition for Justice and Peace gathering at the McAuley Rooms at the Sisters of Mercy Parramatta Convent in the Parramatta Diocese.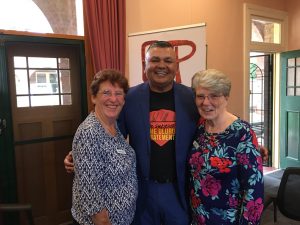 The keynote speaker was Roy Ah-See, a First Nations storyteller, and a proud descendant pf the Wiradjuri Nation. Ah-See is the Co-Chair of the Uluru Dialogue and former Chairman of the NSWALC and Prime Minister's Advisory Council.
"It was a privilege to listen to Roy," says Sr Sally who says while the debate will get harder and muddier in the eight months ahead, "Roy urged us all to keep our eye on the Light House leading to the Referendum".
Ah-See's is an inspiring and powerful story. He was born in 1967, the year the Australian people voted 'yes' at the Referendum to change two sections of the Constitution in relation to Aboriginal and Torres Strait Islander peoples voting rights.
He was raised on Nanima Reserve near Wellington, New South Wales. In a family of eight children with a single mother, they knew poverty first-hand and were welfare dependent. He became a product of that environment, which lead to antisocial behaviour and alcohol abuse.
At the age 18 Roy was incarcerated and looking at a long custodial sentence. An uncle of Roy's became his guide and advised him about the need to turn his life around if he wanted to achieve his dreams, aspirations and goals. Roy listened to that advice and went to University as a mature age student and graduated with a degree in Social Welfare. He went on to work at various government agencies and at NSWALC as a Policy Officer.
He has since presented and spoken to audiences as large as 65,000 people and has represented Australia's First Nation Peoples at the United Nations in both New York and Geneva. Roy is happily married; his son is a podiatrist, and his daughter is a lawyer.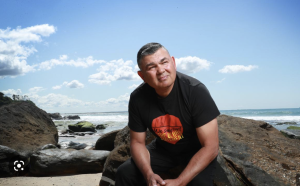 Here are some of the key points which Roy highlighted about the road ahead to achieving an Indigenous Voice to Parliament:
"It is okay to be angry about the past treatment of First Nations people, but this anger must be turned into advocacy. Together become part of the solution, rather than the problem".
The Uluru Statement of the Heart is a 2017 petition by Australian Aboriginal leaders to change the constitution of Australia to improve the representation of Indigenous Australians. It is a generous and inclusive Statement which invites us all to walk together. It offers us all an opportunity to heal country, people and the nation. It was never meant as a political Statement, but rather as a gift to the Australian people.
The Statement has always asked for Voice, Treaty and Truth in this order. The collective wisdom of the Mob who gathered in Uluru asked for this order. The Voice will inform what Treaty looks like. The Truth-telling piece is called 'makarrata'. This is a word in the Yolngu language meaning a coming together after a struggle, facing the facts of wrongs and living again in peace. If we include an Indigenous voice in the Constitution, it will not depend on the whim of politicians.
Roy urged us to have full information before we vote at the Referendum. A recent survey of aboriginal people showed 10% currently say 'no', 10% are undecided and 80% say 'yes' to an Indigenous Voice to Parliament. Roy explained that Indigenous people want "a black voice, not a blue, red or green political voice"! There is already a lot of information available online, for example there were eleven reports written before 2017.
In aboriginal culture, it is always critical to listen to the "collective wisdom" of the Elders. They cannot be wrong. Many of the Elders were a part of the extensive consultations which happened around the country. They were also present at the landmark gathering at Uluru in 2017.
For Roy aboriginal spirituality simply means – "when you're in the river be the river, when you're at the beach, be the beach and when you're in the forest, be the forest."
When asked about the few loud aboriginal voices who currently say 'no', Roy said this is a strategy to create confusion and muddy the waters, and some "have an axe to grind'. He said unfortunately there are also loud negative voices among some politicians and media. They "make a lot of noise and try to stifle debate, to undermine and to discourage". They "never speak about the four principles of love, kindness, acceptance and love which will heal our country and get rid of oppression".
While the debate will get harder and muddier in the eight months ahead, Roy urged us all to "keep our eye on the Light House leading to the Referendum".
– Sally Bradley RSM
 Executive Director