Will You be My Grandma?
For Marilyn Lucas-Smith, becoming a volunteer mentor with Mercy Connect has given meaning to her retirement.
"When I retired, I felt my retirement had very little meaning. So I was looking for something to do that would give a little bit of purpose to my life. And this has certainly filled that for me," Marilyn, a retired school teacher, explained at our recent Annual Friends Gathering in October.
Initially starting as a mentor to a kindergarten classroom at Sacred Heart in Mt Druitt, Marilyn helped seven refugee students who knew very little English keep up with their schoolwork.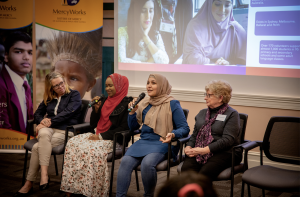 "When I started there was one little girl in particular, a very sweet little girl born in a refugee camp – whose mum had no assistance from a midwife or doctor – and this little girl was born with an ill-formed arm, so she only had the use of one arm.
"So not only did she have a language disability but a physical one as well. She was such a sweet little girl and very willing to be helped, and one day she said to me: "Mrs Lucas-Smith, can you be my grandma?"
"I said 'Well you have a grandma'. And she said 'Well, yes, but she lives in Iraq'.
"So I said, 'I'll be your grandma at school, is that ok?'. Oh yes she said, I'd like that. So that's something she gave to me that I cherish."
Marilyn has since moved to help mentor the adult literacy learners at our Hilltop Road Community Centre in Sydney, run by Catherine Gregory, The Community Liaison Officer at Hilltop Road Public School, where Mercy Connect provides volunteers to support students. She says the Adult Literacy Classes empower parents.
"It's a no brainer really," says Catherine. "The classes are so important because our mums want the best for our children, and we want the best for our mums. So many of our mums will want to be able to support their children at school, but they might not have the language behind it to be able to support them and understand what's happening in the school environment."
The classes have a ripple effect.
"It also goes back the other way. When the children see their parents at school, and they're engaged and part of the school community – they're really proud. They pop down and say, 'Is mum here today – is she learning today?'."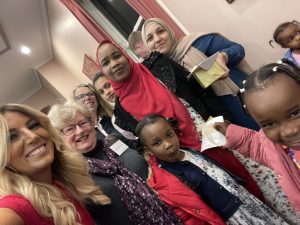 For mum-of-four, Salima, who attended our Friends Gathering in October with her gorgeous children and spoke beautifully in public on a microphone for the first time ever, the lessons have made her happy.
"After my daughter is starting school, I started English class, I talk to my daughter in school, and I found at the class I am very happy. [After] One year and a half [of lessons] Corona is coming and stopping and I'm feeling good because now I have started again. Before I am not talking but I have some idea and now I'm doing well. Now I am very happy."
And for Salima's classmate, Arezou, the English classes have given her a new lease of life. She has completed a barista course and a course in floristry. She brought our room to tears when she shared how the classes have given her the ability to help her children in ways we couldn't even imagine.
"I'm so happy I'm here – I want to share some experience with you all," she told the packed room. "In the beginning I started the English – I don't know anything, but now I'm comfortable.
"When I come here – I'm in culture shock. I like to learn English. But I can't to enrol. When my daughter started kindergarten it was very difficult for me – because I not understand English. Now my English is good. Especially when my kids are sick, I can't go to the doctor – before [Mercy Connect's classes] I can't explain [how they are sick], but now I am good. I can help them now."
Our Adult Literacy Classes operate in five locations across Australia supporting 52 adult refugees and asylum seekers with 21 volunteer mentors. It would not be able to exist without the generosity of our donors and funders.