World Speech Day – The Power of Words told through our Mercy Connect Sydney student, Fadi
World Speech Day is the celebration of speech and the power of words. A speech can heal a broken heart, bring a community together and mend unforeseen bridges.
On World Speech day 2022 – the personal theme is "A New Harmony; finding reconciliation after personal trauma or loss". Here at Mercy Works we wanted to especially thank Parra Leagues Club Grants for their support of our Mercy Connect Program which operates in schools in Parramatta and other Sydney local government areas providing reconciliation and healing after such trauma for our refugees and asylum seeker students.
Our specially trained volunteers assist vulnerable refugee and asylum seeker students with regular in-class mentoring support to build their emotional and academic confidence.
One such Mercy Connect Sydney student, who touched our hearts with the power of his words, is Fadi Esho, a 22-year-old from Iraq who completed his HSC at at Bankstown Senior College last year.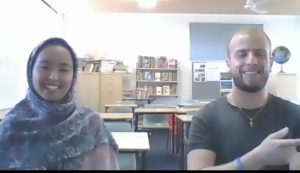 Fadi was invited to share his speech with us in December of last year at our Mercy Connect gathering, but had to cancel when his work as security guard at Canterbury-Bankstown City Council called him in at the last minute. Fortunately, the power of his words were still heard when he wrote his speech for us to read out loud. It touched us all.
Here is his story: 
"My name is Fadi Esho, I am a 22 year old from Iraq and currently a Year 12 student at Bankstown Senior College. I arrived in Australia on the 19th of March in 2019 after many difficulties in Iraq and Turkey.

My journey started in 2015 when I left Iraq and went to Turkey as a refugee. My family and I left Iraq because of the war: There was no future, most of the time there was no electricity and very poor living
conditions.

Despite all this struggling, in Iraq I was doing well at school and I was already in Year 12; but my family decided to flee to Turkey because the situation in our beloved country was very dire. We moved to Turkey (Istanbul) hoping for an Australian visa. The life in Turkey was very hard, harder than what we expected: I worked as a cleaner, salesperson and even as an English tutor for a 10-year-old boy.

I couldn't complete my studies in Turkey because I had to work and help my family to pay for the rent and other basic living expenses. We stayed in Turkey for three and half years until we received our visa to come to Australia. When I arrived in Australia, I was already over 18 [and] really disappointed and sad because I thought no school would accept me due to my age. But lucky for me at Bankstown Senior College they do accept older students. I completed 3 terms at the IC and then I went directly in Year 11.

My living conditions in Australia are surely better than in Turkey, but our overall income is barely enough for the rent, bills and food. To study I have very limited internet access at home, and I share a laptop with my two siblings.

At the beginning of this school year, I had decided to go to TAFE and do the Certificate IV in Real Estate, but the career advisor made me realise that my marks were good enough to apply to go to Western Sydney University, where I can do a Diploma in Business and then, if possible, continue with the Bachelor in Business.

My biggest supporter is my mum who thinks now is really my chance to study. At the moment, I am working as security guard at Canterbury-Bankstown City Council where I use my Arabic language skills a lot. Accomplishment is very important for me because I want my family to be proud of me, so they know that each sacrifice they did for me wasn't for nothing.

My long-term goal in Australia is to get a job that I like and help my family financially. I want to become a productive citizen of Australia, a person helping other people in this country that offers so much to me and I want to be a person who will leave a positive mark in this world."
And the good news? Fadi did well enough in the HSC to study a Diploma in Business at The University of Western Sydney. Congratulations Fadi! And thank you Parramatta Leagues Club for your continued support of our Mercy Connect program.