Celebrating NAIDOC Week!
NAIDOC Week 2022 runs until July 10 and this year's theme is "Get up! Stand up! Show up!"
It celebrates the history, culture and remarkable contributions of Aboriginal and Torres Strait Islander peoples and is a chance for all Australians to learn more about the oldest, continuous living cultures in the world.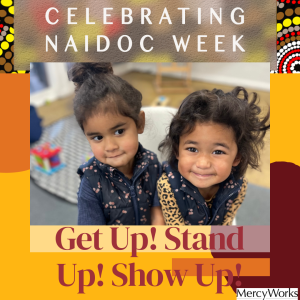 Mercy Works is proud to partner with many First Nations communities, including our five Indigenous projects around Australia which include our Connected Kids & Empowered Educator at the Baabayn Aboriginal Corporation in Mt. Druitt.
Baabayn is a wonderful healing space for the community in Mt Druitt and surrounding areas. As Janaya, our empowered educator there says, "Baabayn is the centrepiece. We are the connection for the community, we are the voice.
"Our dream has always been to create a healing Centre that will give the Western Sydney Aboriginal community a place to meet and reconnect with their cultural and spiritual identity."
Janaya has wonderful plans for Baabayn – which was founded by five Aboriginal Elders who recognised "the need to look after the mob the Aboriginal way". We are excited to bring you more about Janaya's Journey soon. Meanwhile, our Indigenous Project Manager, Clare Bennett, visited Baabayn last week and was impressed with the progress being made.
"In light of this year's message, I am proud that Mercy Works can play a small part in Getting Up, Standing Up and Showing Up!" says Clare.
"NAIDOC Week gives us a chance to celebrate First Nations Peoples of Australia, a chance to highlight challenges that need addressing (such as our Nunga Babies Watch project advocating for a stop to another stolen generation from happening), and a chance to learn and engage with amazing cultures that are thousands of years old through heroes such as Aunty Pat in Adelaide and Janaya at  Baabayn and honour the work they do."
Our other First Nations project for the next 12 months include a Multi-Sensory Room at the
Cape York Girl Academy
in Cairns, our
Salt n' Pepper
post-prison release project in Adelaide combined with our
First Nations Advocacy
– Nunga Babies Watch Project
, as well as a new project which we are excited to partner with – the
Yartangka Tirkanthi – Learning on Country
, in Adelaide.
We can't wait to share the good news from these projects in the coming months. So stay tuned!
[Photo credit/ special thank you for photo permissions from Baabayn Aboriginal Corporation and with the generous courtesy of the girls mum, Sheridan]
Read More about the work Aunty Pat is doing to stop the taking of Aboriginal Children in our Nunga Babies Watch Advocacy Project in Adelaide here