Dhiel's Destiny
Dhiel Yen, a young mum who is the beneficiary of a Mercy Works Tertiary Scholarship Program, believes she was always destined to work with children and adults with a disability.
Currently volunteering with Callan Service for the Disabled, Dhiel, 26, is hoping to secure a future in a paid position as a Community Health Worker.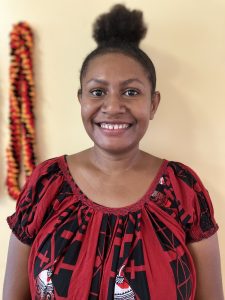 When she was a baby, a local woman with a disability, who she grew to love very much, minded her while her mother worked full time as a schoolteacher.
"I think I enjoy working with children and adults who have special needs because of my own story," Dhiel says. "I really enjoy the work. Some people have Down syndrome, learning difficulties, blindness and cerebral palsy and I assist them with physical exercises.
"They so often laugh and are very happy people! I especially enjoy visiting the homes of those who cannot go out. Often family members are really shy about their loved one's special needs. If the person is bored at home, I play them a movie on my mobile phone and sometimes I assist the teacher with the children in the classrooms."
Dhiel attended St Gabriel's Technical Secondary School in Kiunga and completed Year 12 before applying for a scholarship to study to be a Community Health Worker at Rumginae Tertiary College on the advice of Mercy Works Kiunga Coordinator, Steven Dude. She proudly graduated in 2022 and is currently waiting to receive her licence.
One boy, who is blind that comes to Callan Services, has especially capture her heart. The boy's grandfather looks after him as his mother died and his father left, taking his twin abled sister with him.
"He loves singing, and given that he cannot see, I find it amazing that he can catch a ball! His sense of hearing often compensates for his lack of sight."
Read Building Bridges