Mercy Works Updates

Join Our Conversation
Learn More
Join Our Conversation
Stay up to date with everything Mercy Works including The Bilum and The 'Mini' Bilum!
Follow Mercy Works on Facebook
We Are A Team
We are a team, standing up and saying "No" to racism.
Upholding human dignity and promoting equality for every race and people remains our social responsibility.
Our mission to improve the quality of life of thousands of the vulnerable people is a privilege and an opportunity given to us by God, the creator of humankind.
Therefore, as a development partner with indigenous engagement, all participation is based on mutual respect, trust and understanding.
Maryanne Kolkia RSM, Mercy Works Ltd PNG, In-Country Coordinator
---
Leave No One Behind
Adasha's Story
Adasha was orphaned at only three days old when her mother passed away.
Like many girls in Papua New Guinea, she finished school in fifth grade.  A number of years later she was looking to learn and improve her skills in sewing and baking when she attended a Mercy Works Skills Training workshop for the first time.  It was through Mercy Works that Adasha was then able to access Money Minded Training with ANZ bank and also Business Awareness and Business Planning Training with Jabez Business Services.
This training enabled Adasha to successfully start her own business. By being given this opportunity, her business confidence and skills have continued to grow.  Adasha's hard work and drive to learn has seen her achieve so much in such a short space of time that she now has a dream of building her business into a tailoring company.
On Friday July 10th, the first graduation ceremony for the Small to Medium Enterprise training course was held in Goroka.  Fifty five students who had completed the training, conducted in partnership with Jabez Business Services and the Department of Trade and Commerce, graduated.  This significant event was attended by the Planning and Monitoring Minister and it was fitting that the MC would be Maryanne Kolkia rsm, Mercy Work's PNG In-Country Co-Ordinator.
For fourteen years in the Eastern Highlands Province,  Maryanne  has been the driving force behind various life and skills training programs. In addition to training in practical skills such as farming and sewing, Maryanne also identified the need for training in Small to Medium Enterprise (SME).   Her experience taught her that this was necessary to enhance the prospects for the trainees to start up and successfully run their own business to sell the goods they have learned to produce.
The theme developed by Maryanne for the SME program, 'Leave No One Behind', was created with the aim of being a pathway through agriculture and other businesses to sustainability, reliability and ownership into the future – essential to community development for the poor and impoverished people of Papua New Guinea.
This idea particularly resonated with Adasha who tells herself every day that 'I can do it, nothing is hard, it is just a matter of trying your best.'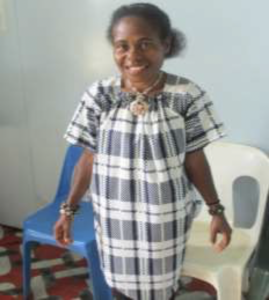 ---
Uncovering Layers
Michael & Ken's Story
At the age they should have been finishing their last year of primary school, Michael and Ken were forced to leave school. Coming from poor families, they both needed to find work to support their families. With no qualifications or skills to get a job, they came across a course in onion growing.
Mercy Works had starting teaching this course to local youth showing them how to grow onions, when to harvest them and how and where to sell them. Completing this course was a significant milestone for both Michael and Ken, who now have the skills to earn money to help their families buy basic items such as clothing and food.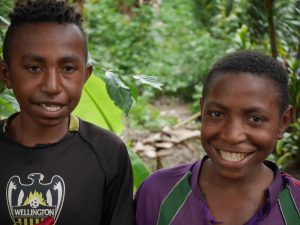 Welcome to the new Mini Bilum!
In this month's Mini Bilum, we focus on 'Switching Back On', where our projects are flipping the switch from survival to adapting. The difference in the way life was to what it now is, is the biggest challenge we face. The Mercy Connect program in Western Australia has gradually opened up guided by new rules and restrictions ensuring the safety of the community whereas, in Victoria, the state is in the midst of its second lockdown stopping all non-essential activities including the Mercy Connect program. However, in each place, our Coordinators are keeping connected through email and phone calls to both our volunteers and where possible those we serve, which is greatly appreciated in these times of social isolation.
Our thoughts and prayers are with each and every Victorian as they battle through the toughest of restrictions seen in Australia since the onset of this pandemic earlier this year.
Your support of Mercy Works enables disadvantaged and displaced people and communities who are our beneficiaries to receive the development assistance they need. Thank you for making that possible.
From All of Us at Mercy Works!
---
July 27th 2020
CONNECTIVITY | Mercy Connect Sydney Newsletter
Read the latest edition of 'CONNECTIVITY' from Mercy Connect Sydney.
---
July 21st 2020
In this month's Mini Bilum, we focus on 'Adapting to Change', diving into the work our Indigenous programs are doing across Australia. Baabayn, located in Mt. Druitt, is working to support young Indigenous mothers and their children throughout this pandemic. Prospering After Prison is one of our newest projects located in Port Augusta assisting Aboriginal women as they transition from prison back into the community.
Earlier this month, Mercy Works was able to respond with emergency funding to provide basic items for more than 140 West Papuans who fled Indonesia in fear of their lives in November last year.
Your support of Mercy Works enables disadvantaged and displaced people and communities who are our beneficiaries to receive the development assistance they need. Thank you for making that possible.
We hope you enjoy reading!
From All of Us at Mercy Works!
---
July 15th 2020
Mercy Works Live Q&A Session with ISMAPNG | Watch Now
---
June 16th 2020
Looking back on the first six months of 2020, our global community has been dealing with a pandemic that has delivered a painful remind that life is fragile at its best. Gradual easing of restrictions is bringing with it what has been named "the new normal". Mercy Works too is adapting to a changed world by revising our programs where required to ensure they are delivered safely to those who need them.
In this month's Mini Bilum, we focus on 'Creating Connections' through an insight into our Mercy Connect program as it emerges from the nationwide move to online learning and the transition back to the classroom.
Your support of Mercy Works enables disadvantaged and displaced people and communities who are our beneficiaries to receive the development assistance they need. Thank you for making that possible.
We hope you enjoy reading!
From All of Us at Mercy Works!
The Mercy Works 'Mini' Bilum June Edition
May 21st 2020
As we continue to journey through this COVID-19 pandemic, our global community is undergoing changes that will be permanent. Mercy Works is adapting to these changes by continually revising the methods that we use to deliver our programs to ensure that we can continue to provide essential assistance to those in need.
In this month's Mini Bilum, we focus on 'Holding Onto Hope', a glimpse into projects partnering up with businesses and community leaders in Papua New Guinea, working to support the vulnerable during this crisis and accessing education in a time where normal learning simply isn't possible.
Your support of Mercy Works enables disadvantaged and displaced people and communities who are our beneficiaries to receive the development assistance they need. Thank you for making that possible.
We hope you enjoy reading!
From All of Us at Mercy Works
The Mercy Works 'Mini' Bilum May Edition
---
April 22nd 2020
The onset of the COVID-19 pandemic has brought with it change to almost every aspect of our lives. Mercy Works is adapting through finding revised methods wherever possible to deliver our programs to ensure we can continue to provide assistance to those in need.
We are also responding to these changes in the way we communicate with you – by replacing the June issue of
"The Bilum"
with a
"Mini Bilum"
, which is a much shorter monthly digital format.
In this month's Mini Blum, we focus on 'Shining Lamps for 20 Years', a brief history of Mercy Works to celebrate the 20th anniversay of our organisation, and personal reflections from some of those who led Mercy Works through the last two decades.
Your support of Mercy Works enables disadvantaged and displaced people and communities who are our beneficiaries to receive the development assistance they need. Thank you for making that possible.
We hope you enjoy reading!
From All of Us at Mercy Works!
The Mercy Works 'Mini' Bilum April Edition
---
April 14th 2020
Special Edition CONNECTIVITY for Mercy Connect 
Some of our volunteers have commented on how sad they feel about losing two of the highlights of their week.
Their day as a volunteer mentor and the time spent in their grandchildren's company have been taken away for an unknown time as people observe social distancing protocols.
CONNECTIVITY Term 1 April 2020
---
April 8th 2020
Easter Message & Reflection
Happy Easter from all of us at Mercy Works!
Wishing you an Easter season filled with peace, strength and new beginnings! We want to thank each and every one of our supporters whether you are new or have been with us for a while, the support you give is invaluable and we could not do what we do without it.
The New Decade 2020…
We are only four months into this next decade and we are in the midst of one of the biggest challenges we will ever see in our lifetimes. As this pandemic grips our world, we need to remember that the challenges we face today, we face together and the light at the end of the tunnel is getting closer with every passing day.
As uncertainty becomes a new reality for our global community our Mercy mission has never been more important. As a community we must ensure we are taking the necessary precautions to protect not only ourselves but those around us. With each new beginning comes an end with the hope that what has come with this pandemic won't be a part of the future.
Mercy Connect has plans to expand this year. Moving into the city of Bendigo has shone the light of hope and progress, as we connect with new schools and new volunteers. Papua New Guinea and Timor-Leste are no exception to this growth and development with the hope that many existing programs will expand into new communities as other projects are now completed.
Any further updates on Mercy Works' response to this crisis will be emailed to our supporters, posted on our Facebook Page and updated on our website.
"Our Portion of Easter Grace"
Easter offers us many graces, especially the grace of holding onto hope in our lives. In this time of great uncertainty as we all deal with the unfolding impact of COVID-19 this is more needed than ever.  In one of her letters to the early Sisters of Mercy on 19 April 1841 Catherine McAuley, our founder, said to "pray for your portion of Easter grace". Our tangible Mercy mission among vulnerable communities attracts many wonderful people who distribute large portions of hope. As I have visited our widespread Mercy Works projects across Australia, Papua New Guinea and Timor Leste I see the many graces and the gift of hope alive and well. In our shared Mercy mission, together we increase 'our portion of Easter grace' and hope in our world. While there are many to choose from, let me share four hope-filled Mercy Works stories.
For some years Mercy Works in Papua New Guinea has hosted a weekly radio program across the Highlands. We believe as many as 600,000 people tune in to this program. The message is always one of challenge in the face of tough issues and hope to overcome these with community support. The issues include – skills to promote right relationships and non-violence, the empowerment of youth and women and girls, and stories of positive change.
A big portion of Easter hope is enkindled among the people of PNG!
We even experience life and energy in what could sound like boring tasks. In February the Mercy Works Board directors and staff in our Parramatta office met to discuss and review our Strategic Plan for the next three years. It was certainly far from boring! Instead the room was alive with a creative, positive spirit as together through our many projects we believe we are making a real difference in the world.
A big portion of Easter hope among us!
In Mt Druitt, western Sydney, where there is a large indigenous community, Mercy Works supports a project that changes lives!  As part of the Baabayan Aboriginal Corporation, young Mums and their little ones meet every week to honour their cultural richness through stories, art and dance.  Intergenerational healing happens. Friendships are made and strengthened. A sense of community is alive and well. When I visited in early March, the women welcomed me with a sense of pride in all they are creating together.
A big portion of Easter hope and healing is encouraged every week in Mt Druitt! 
Every Friday the Mercy Connect Program in Melbourne, has been running an Adult Literacy Class at the Dandenong Library supporting refugee and asylum seeker adults learn English. In the June 2019 edition of The Bilum, we shared the story of Bibi and her father Daud who arrived in Australia as refugees in 2015. Becoming part of this program has given them the tools to rebuild their lives in Australia, all the while deeply missing family members back in the refugee camp in India. Earlier this year, those important pieces were brought back together, as the family was reunited. We know how first-hand how this program gives indelible support to some of the most vulnerable members of our society.
Easter Hope can be found in the stories of so many of our Mercy Connect students and families!
Mary Southard CSJ, 'Water Woman'
During this Easter season together let us all pray for 'our portion of Easter grace' and so multiply this gift of hope in our world. A virtue that is so needed in our fragile world at this time!
Sally Bradley RSM
Executive Director
Mercy Works
If you would like to read the full Easter Reflection please
click here
---
March 25th 2020
An Update to our supporters regarding Mercy Works and the COVID-19 Pandemic
Due to COVID-19 crisis both locally and globally we are all facing an uncertain and a rapidly developing situation.
Mercy Works is closely monitoring advice provided by government and relevant authorities and following their directives to ensure the safety and wellbeing of all our project participants and our staff.
In terms of both our staff and Board, most of us at Mercy Works are therefore working from home, so are able to be contacted by email and by phone (where calls can be diverted to the individual staff member if required). We are also valuing regular online meetings where we can stay in contact and give support to each other.
As always Mercy Works remains committed to our mission amongst marginalised communities in Australia and in the Asia Pacific region.
We are committed to continue operating and supporting our life-changing projects to ensure those in need receive the assistance they require, although some projects will inevitably be impacted. In terms of the COVID -19 we are very concerned about the possible impact on both Papua New Guinea and Timor Leste given their very limited health systems, and we will do all we can to continue our support in both places.  Interruption or adjustments to some of our projects may be required.
The current status of our various projects is as follows:-
In Papua New Guinea we hope to start new projects in the province of Simbu later this year. We plan to continue our projects in Kiunga into the future. Projects in Goroka, and Mt Hagen continue till mid 2021 as we transition into Simbu.
In 

Timor-Leste

 we support one health project in the Suai Covalima district and if funds permit we are hopeful of partnering with new projects in the Baucau district later this year.
Mercy Works 

Mercy Connect

 Refugee Student Mentoring is running in schools which remain open and where the school and the volunteer have deemed it is safe to continue. We are also exploring possible creative ways to continue this
online.
The Mercy House of Welcome in Kilburn in Adelaide continues to offer support to asylum seekers via telephone while the Centre has been closed to comply with social distancing guidelines.
We are still exploring possible new Indigenous projects in Australia to start later this year, and we will keep you posted.
At this time, we all need to reach out to each other.  Your support in delivering these works of Mercy is essential, as is their continuation wherever possible, so that when, together, we emerge from the COVID-19 crisis, the vulnerable and marginalised will be empowered to change their lives for the better.  We will keep in touch with you in the coming weeks.
In the words of Catherine McAuley, foundress of the Sisters ~
'The Poor Need Help Today, Not Next Week'
I recently received this beautiful reflection by Lyn Ungar and I offer it to you to ponder ~
'Pandemic' 
What if you thought of it
as the Jews consider the Sabbath –
the most sacred of times?
Cease from travel.
Cease from buying and selling.
Give up, just for now,
on trying to make the world
different than it is. Sing. Pray. Touch only those
to whom you commit your life.
Center down.
And when your body has become still,
reach out with your heart.
Know that we are connected
in ways that are terrifying and beautiful.
(You could hardly deny it now.)
Know that our lives
are in one another's hands.
(Surely, that has come clear.)
Do not reach out your hands.
Reach out your heart.
Reach out your words.
Reach out all the tendrils
of compassion that move, invisibly,
where we cannot touch.
Promise this world your love –
for better or for worse,
in sickness and in health,
so long as we all shall live.
'Compassion' – Mary Southard CSJ
Yours in mercy,
Sally Bradley RSM
Executive Director
Mercy Works  
---
The Bilum: December 2019 Out Now!
Making connections wherever we are is not just a something we do as humans, it is something we need. Connections to place, to people and to objects are what helps us as a species thrive. As we are continuing to evolve in the world we live, connections are becoming more and more crucial to our survial. In this edition of The Bilum we focus on the power of connections, especially those created, nutured and maintained by Women. Women Creating Connections is the cornerstone to survivial of families and communities in every corner of the globe.
Your support of Mercy Works enables those disadvantaged and displaced people and communities who are our beneficiaries to receive the development assistance they need. Thank you for making that possible.
We hope you enjoy reading!