Mercy Works Updates
Help save a life with our Chicken and Egg June Tax Appeal
Thousands across the remote region of Maucatar in Timor-Leste face extreme hunger and malnutrition
Timor-Leste remains one of the world's poorest countries. Maucatar is a remote mountainous area where there is chronic malnutrition, high mortality rates, especially high maternal and baby death rates (38.1 of every 1,000 births under the age of five). These communities have little or no access to clean water, sanitation, roads, education or infrastructure.
For the 13,240 people who live across 22 villages here, there are no homes with running water, bathroom or toilet facilities and most villages do not have electricity. Families here live off what they can grow and find in the forest.
It is here Mercy Works partners with the inspiring Hospitaller Sisters of Mercy to provide a maternity clinic to care for, to educate and to conduct outreach work in remote villages.
These Sisters SAVE LIVES and have developed a project to improve the nutritional status of mothers and young children by providing extra protein through the distribution of eggs and egg-laying hens in the area.
You can read more about our Project HERE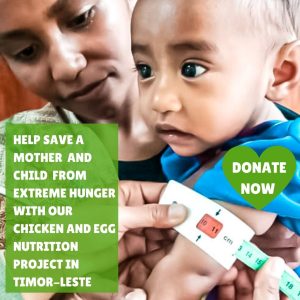 Cashing in on Cocoa Crop
SOWING SEEDS OF JOY IN PNG
Our  latest Cocoa Cash Crop initiative, in Iowara, located in the North Fly district of Western Province in Papua New Guinea, began as a tiny bud of an idea by our Mercy Works Project Coordinator in Kiunga, Steven Dude.
With cocoa bean production in PNG reaching 35,000 tonnes in 2021- and it being one of only 23 countries recognised by the International Cocoa Organization for its fine flavour, Steven is promoting cocoa as an alternative cash crop to support families.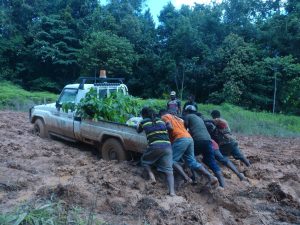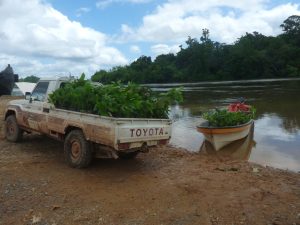 is generating much excitement."People are full of joy when the MW Kiunga team is in their villages…. They feel our presence brings hope and satisfaction," Steven says via zoom from Kiunga.
His goal is to see 800 cocoa farmers in Iowara, each with between 300-500 cocoa trees on a two to three hectare cocoa plantation, within a few years. So far they have introduced 18 varieties of cocoa buds, created from a clone seed in a mini-nursery, which will be planted every Tuesday and Friday. The buds are ready to be distributed for cultivation, with Steven anticipating 10,000 root stock will be planted.
The aim is to create a whole new economy for the impoverished area which faces many challenges including climate change, geographic limitations and difficulties accessing markets. You can read more
HERE
Our Christmas Appeal
This year Mercy Works is hoping to raise money and support our new project in Cebu city in the Philippines.
YOU can  give Hope this Christmas and HELP end human trafficking in the Philippines by giving young women a voice to be heard. DONATE HERE or learn more about our latest project HERE
We Are A Team
We are a team, standing up and saying "No" to racism.
Upholding human dignity and promoting equality for every race and people remains our social responsibility.
Our mission to improve the quality of life of thousands of the vulnerable people is a privilege and an opportunity given to us by God, the creator of humankind.
Therefore, as a development partner with Indigenous engagement, all participation is based on mutual respect, trust and understanding.
Maryanne Kolkia RSM, Mercy Works Ltd PNG, In-Country Coordinator
Walking with our First Nations People
Mercy Works Ltd is committed to walking with our First Nations people in the journey of reconciliation. We accept and honour the Uluru Statement from the Heart and support an Indigenous voice to parliament and constitutional recognition. We especially acknowledge the tireless and important work of First Nations women across Australia.
('Uluru Statement of the Heart' – 2017 First Nations Convention)