Refugee Role Model
For six years, Janu Amuan, the principal (head teacher) at West Montford Primary School in the remote Iowara region, struggled to see his village school shut down.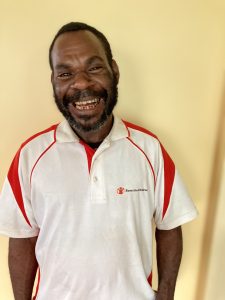 Janu, who considers himself a pioneer refugee, was desperate to see his old school re-open. As locals became angry, he spent two years working hard to make sure the school – which was started by the Montford Missionaries in 1991 – would open its doors once more.
The West Papuan refugee (he was born in the village of Erecta on the Fly River and was relocated by the PNG government in 1987, receiving permanent residency in 2015) is now proud to say, as of 2023, 141 students have enrolled in the school, with 96 students attending. There are now four teachers on staff, including himself.
"It was very run-down, with empty school buildings – no blackboards, no desks, all past records were gone," the married father of six boys says of the school in the remote village which closed its doors in 2016.
"The livelihood of the people is very poor," he explains of the struggle to keep the school open. "The condition of the road from Iowara is also very poor – it is 45 km and takes one to two days walking on the muddy clay road. Some people walk this road carrying packs on their backs to the market in Kiunga in the extreme heat. If they travel by the Public Motor Vehicle (a 12-seater bus) it takes four hours on the bumpy, boggy road. If it rains heavily the bus has to pull off the road and stop."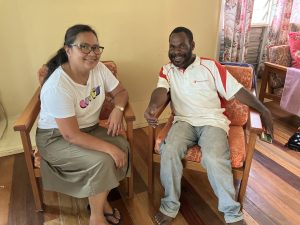 Many of the young people from the area who train and qualify as teachers move away from Iowara looking for a better life. Not so for Janu.
After completing Year 12 at Kiunga Secondary School and then working as a volunteer with Sr Maureen Sexton RSM, a Mercy Sister, at the Kiunga Mercy Works office in 2005, Janu decided he wanted to become a teacher. Sr Maureen helped him obtain a government scholarship at Divine Word University, where he graduated with a Diploma of Primary Education.
He taught at two schools on the down Fly River when our  Mercy Works Kiunga Project Coordinator, Steven Dude, identified him for the Mercy Works Senior Teachers Academy program. Here he learned how to manage subsidised tuition fees, school funds and banking requirements, which he says has enabled him to become more accountable and competent in the head teacher role. Janu has since returned to West Montford Primary School in Iowara.
While rebuilding the school has been incredibly challenging, re-opening will rebuild some sense of community, he says.
"I've gained a lot of self-confidence, and this makes creativity!" he smiles. "Some people were very angry about the last six years…I'm satisfied to see new life return to my old school. It helped me to become the person I am today."
Read Dhiel's Destiny